Blog
12-26-2014
I have some good news for people who are being frighteningly haunted by stalkers and those who have run out of affection for their partners. Yes, there is a goddess dedicated to cutting ties. Along the approach to the village shrine in Hinoemata in Minamiaizu-gun, Fukushima Prefecture, which is famous for its Kabuki stage, there is a stone statue of an old woman dedicated to severing relations. Called Hashiba no Bamba, this goddess is also dedicated to matchmaking, so I can recommend a visit to people who harbor secret feelings of romance with someone as well.
While people who want to build good relations offer a pair of rusty old scissors to the goddess, so that ties are not severed, people who want to break off bad relations offer brand new scissors, so that ties can be cut. By the statue there are hanging ema (votive tablets) with messages written on them pleading for the cutting of ties with illness, nasty friends, and stalking ex-boyfriends and ex-girlfriends. I was rather startled to see that there were more tie-cutting ema than matchmaking ema.
When I spoke to my wife about this statue, she wondered aloud whether she should perhaps purchase a new pair of scissors. Ouch! (SM)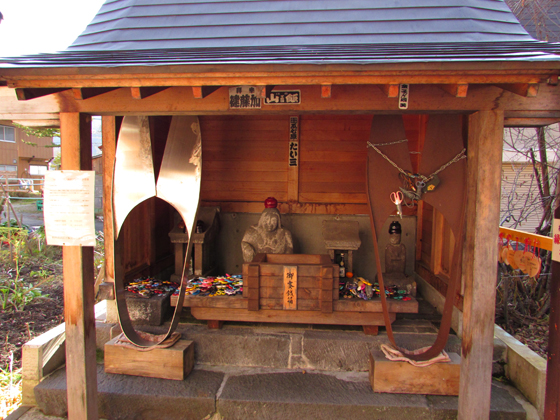 The round ema for severing relations is split in two when offered to the goddess.
The heart-shaped ema for romantic matchmaking

.
The latest category news list