Episode 22 Kitaakita and Miyazawa beach
Zuzana & Michal Czech couple
― CYCLING ACROSS JAPAN ―
Episode 22
Kitaakita and Miyazawa beach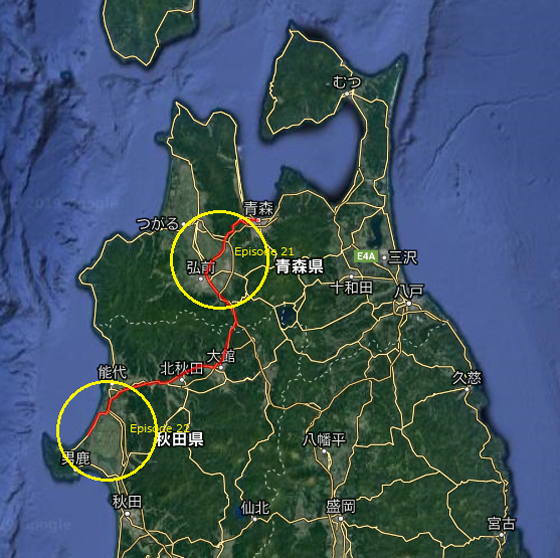 "Please be careful, a typhoon is approaching. If you are in trouble, go to the police station or koban." 
When our Sapporo friends, Katsuo and Nao Horie, sent us this message, we didn't quite realize the situation. We were far from the coast and somehow thought that typhoons mostly come only from the Pacific Ocean. We built our tent at a park next to Kitaakita's michi-no-eki and went to sleep feeling at ease.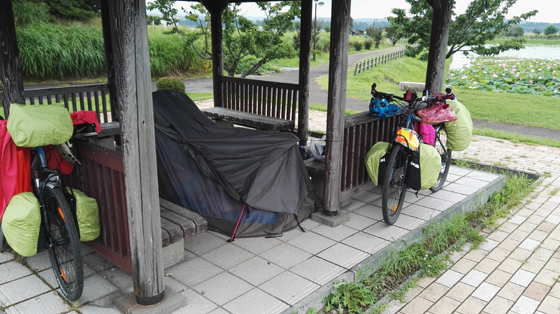 Just before midnight, a strong thunder woke us up. It was raining only slightly but we could clearly see lightning on the horizon. Only now it clicked: a typhoon is approaching. Zuzana checked the website of Japan's Meteorological Agency, Michal watched TV news inside the roadside station. We got scared and "evacuated" our tent to a nearby wooden shelter. Fortunately, the storm dissolved on shore and nothing dangerous reached our location.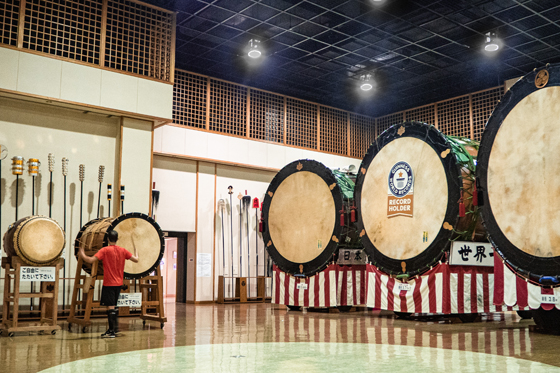 The next morning we had great fun at the local Taiko Museum. This site is not mentioned in tourist guides so the bigger the surprise it was! The main attraction of the museum is a Guinness Record World holder: the biggest Taiko drum in the world. Funnily enough, an even bigger drum stands right next to the record holder.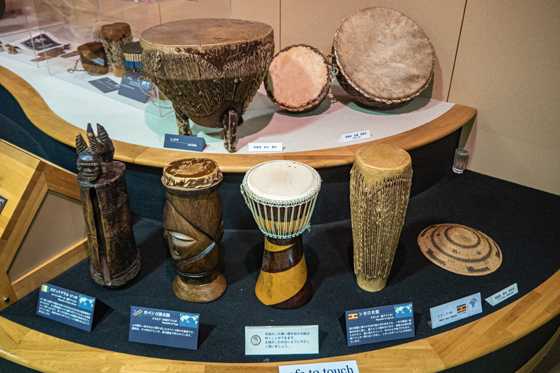 What's unique about the museum is how interactive it is. Visitors are allowed to try a huge variety of drums from all around the world. Our favourites were Turkish specimens.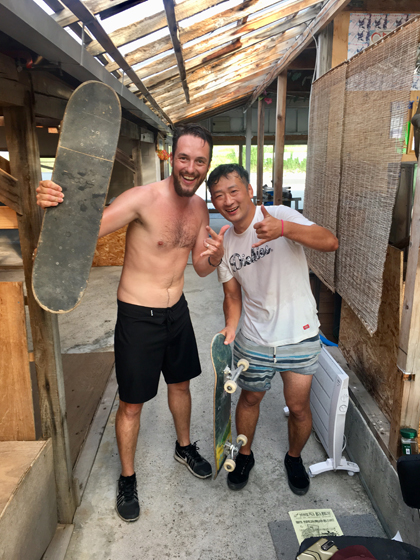 Next we spent a gorgeous time at the Miyazawa beach. Upon arrival, we discovered a laid-back beach house with a skateboarding ramp. Michal fancies this sport a lot, so when Kaname Kudo, a local buddy offered to share his skateboard, it was a no brainer! The boys had good fun and supported each other in attempting different tricks.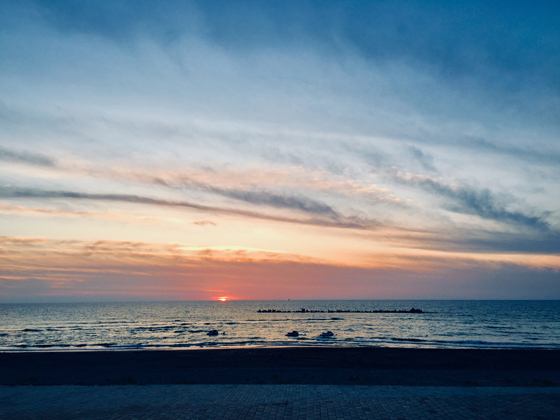 Even though there was a cheap campsite in Ogata, we decided to spend the night at the beach. Sleeping under the clear sky and staring at the Milky Way anytime we opened our eyes was just an unforgettably romantic experience.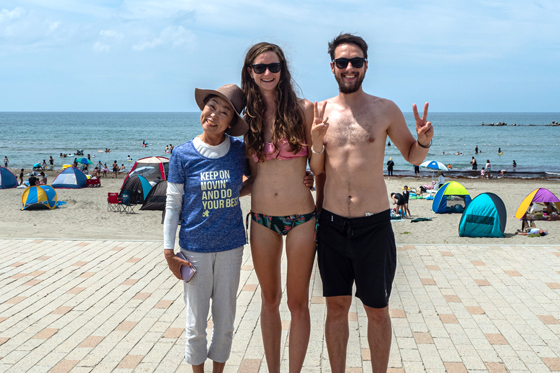 A pleasant voice got us up in the morning. Madame Yoko Obushi is a lifeguard at the beach and regularly talks on the megaphone to swimmers. She was immediately interested in our trip and brought us cold drinks as a present. The Sea of Japan was perfect for bathing, we enjoyed several rounds.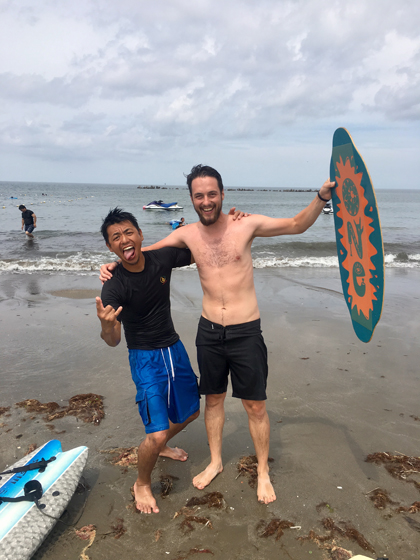 Once again, Michal got to try new activities: this time it was Mr. Takuya offered his skimboard! This was supposed to be the last fun as we needed to cycle away again. But the unbelievable hospitality of local people kept us at Miyazawa for a bit longer.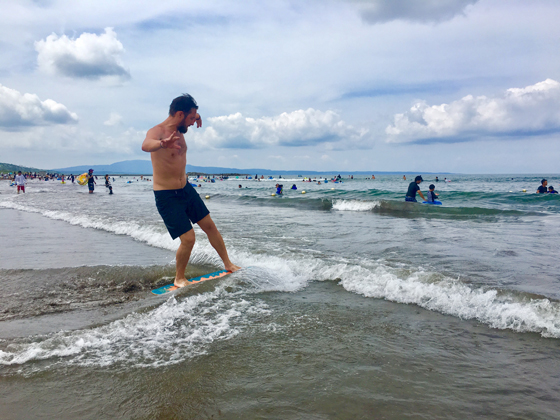 We were taking a paid shower and getting dressed at one of the beach restaurants, when the owner, Mr. Shindo, brought us hot dogs. His whole family then started chatting to us and when they heard what a long journey we're on, more gifts followed. Syrup ice, delicious fried rice with miso soup and 4 home-grown melons: we were treated like kings!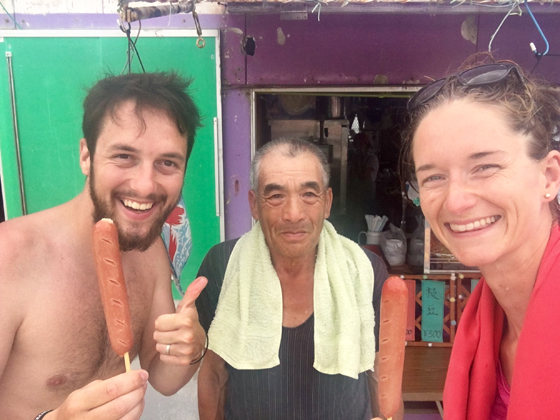 As if it wasn't already too much, a group of young guests came into the restaurant and greeted us, too. We gave them business cards and handed out postcards of Praha to everyone. Motoi Kondou, the boss of the group, invited Michal for a jet ski ride. It was a premiere for him and he was super excited! Zuzana didn't try because she was afraid of hurting her back.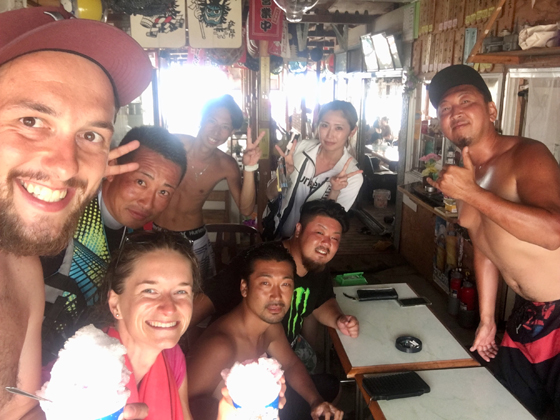 What a day! We left humbled and grateful for all the lovely humans that approached us and all the kind treatment we received. Thank you so much!