Miyako Island and the Miyako Islands
Highly Transparent Ocean and Stunning Coastal Scenery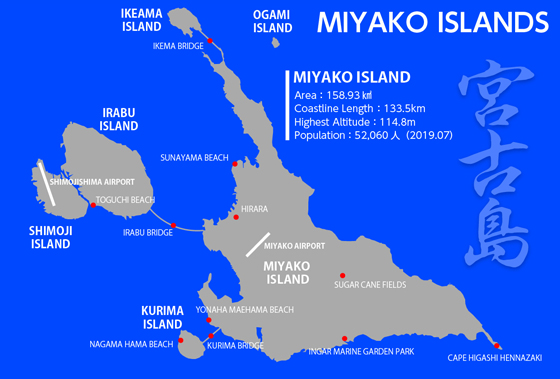 Miyako Island and the Miyako group of seven islands in its vicinity are located in the South China Sea 290 km to the southwest of the main island of Okinawa. Five of the islands in this cluster are connected by sea bridges, so the flow of traffic among them has become easy. Irabu Bridge, which opened in 2015, has greatly changed the complexion of Irabu and Shimoji islands, which it links to Miyako Island. A private airline company now operates regular flights to and from Shimojishima Airport, which used to be a pilot training facility, and numerous hotels and other accommodation facilities have opened on the two islands. Apparently even more are under construction or being planned. Miyako Island itself has seen the number of visitors increase year by year. In the peak summer season it gets more than 110,000 visitors a month, which is more than three times the figures for five years ago. A quay being constructed by Carnival Corporation is scheduled to be completed in 2020, after which 140,000-ton-class cruise ships will be able to dock there. Miyako has a shortage of hotels, and the hotel construction rush seems to be pushing up land prices on the island.
One of the reasons for the popularity of Miyako Island is the beautiful ocean. There are no rivers on Miyako, so no impurities flow into the sea. A visit to the island reveals that the coast is indeed very beautiful—a rank higher than even the other islands of Okinawa. Visitors can enjoy scenery that really has been sculpted by nature. You have, for example, not only white sandy beaches but also a seashore landscape that changes constantly as the sand is moved en masse every time a typhoon comes and a cape surrounded by rocks and stones swept up by tsunami.
Here I would like to introduce the beaches and other features of Miyako and the Miyako Islands.
ーーーーーRead More-----