History
06-25-2018
The World of Japanese Tea
—A Visit to Tokyo's Nearest Premier Tea-Producing Region—


The view of Iruma's tea fields from the observation platform
On May 11, 2018, during the period of the first-crop harvest, which is said to produce the most delicious green tea, I visited Tokyo's nearest premier tea-producing region in the vicinity of the Sayama Hills in western Saitama Prefecture. Centering on the cities of Iruma, Sayama, and Tokorozawa, the Sayama tea-producing region is just a one hour or so train ride from central Tokyo. For tea plants, which like a warm and rainy climate, this is said to be the northernmost economic zone for producing tea in large quantities. First, I visited Iruma, which has the largest area of tea-growing land in the region. There, with the cooperation of the Saitama Prefecture Tea Industry Research Institute and the Iruma City Museum,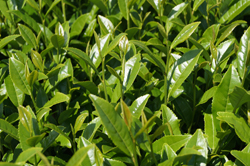 I learned about Japanese green tea and the characteristics of Sayama tea within the world of Japanese tea. Then, despite the fact that this is the busiest time of the year, a producer in Sayama allowed me to actually see the process of producing first-crop tea (ichibancha).
Tea fields shining yellowish green
The first place I was taken to by an official of the Saitama prefectural government's Agriculture and Forestry Division was the Sakurayama observation platform, which offers a panoramic view of Iruma's tea fields. Down below, the tea fields spread out between the residential housing in the foreground and the Sayama Hills in the distance, their yellowish green color presenting a refreshing sight. The area is certainly not so large—one kilometer from north to south and four kilometers from east to west—but for that very reason, I was told, this region has characteristics and techniques that differ from those of larger tea-producing regions. This comment made me look forward even more to my day's research ahead.
On the way to the Saitama Prefecture Tea Industry Research Institute, by chance we happened to encounter the harvesting of tea leaves. A small riding type tea plucking machine, which has made the task of harvesting much easier since its introduction about 20 years ago, was harvesting the first crop of tea leaves with amazing speed. Mounted astride the tea plants, the farmer-driven machine was plucking the new leaves on the surface. Tea leaves begin oxidizing as soon as they are plucked, so it is a battle against time. After the plucking machine has shaved one row of the tea field, its bag, now full of tea leaves, is immediately put on a truck. And when the truck is full of bags, it takes them without delay to a tea factory.
« Older Entries
The latest category news list