Episode 6 Shiretoko – a place for nature

Zuzana & Michal Czech couple
― CYCLING ACROSS JAPAN ―
Episode 6
Shiretoko – a place for nature
One year ago, when we started planning our grand cycling journey across Japan, we found out about the existence of The Shiretoko National Park. We were so excited by pictures we found online that we knew we had to go and see the area for ourselves.
A brilliant article by Shigeki Miki of IHCSA describes Shiretoko from a factual point of view. Mr. Miki summarizes the scientific highlights of the protected areas and writes enthusiastically about the tour of Shiretoko Goko Lakes (Shiretoko Five Lakes). We couldn't be more elaborate so we'll focus on what it's like to experience Shiretoko as Europeans and as cyclists instead.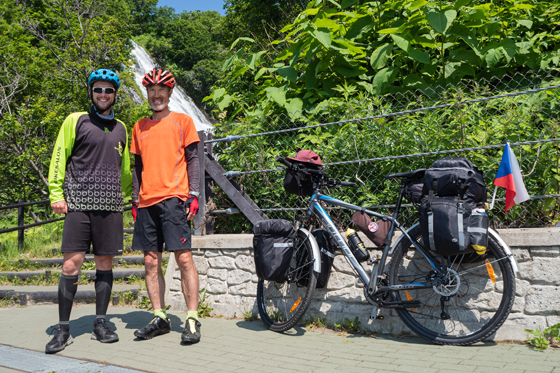 Our first stop at the Shiretoko Peninsula were the Oshinkoshin waterfalls. They're very loud and very impressive, especially on a sunny day like we had. We were approached by many tourists, among them our old friend from the Okkope train hostel – Mr. Tanaka! It's really funny to meet someone on the road twice: even though you're practically strangers, you feel some kind of special connection. Maybe we could call it roadship (road friendship). Roadship is even stronger between cyclists as they know the other person had to endure the same to arrive somewhere.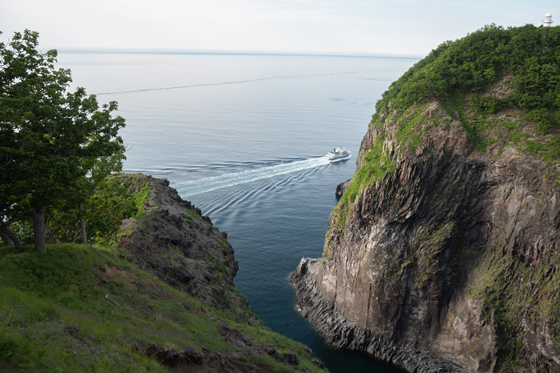 Talking about endurance, the way to Shiretoko is pretty easy and pleasant, but just up to Utoro. From then on, 1-1 times start for cyclists. 1-1 standing for the lowest gears, as the hill up to the national park itself is a steep one! All the sweat pays off though. On our first day, we reached The Shiretoko National Park Nature Center, took a rest there and then hiked for about 20 min to a beautiful lookout point, Furepe Waterfalls. We were singing and whistling on the way in order to avoid any potential bear encounters. Shiretoko has one of the most dense populations of brown bear in the world!
The only campsite on the western coast is in Utoro, so we had to return back down and pitch our tent there. Utoro is a convenient basis for exploring Shiretoko – there are onsens, restaurants, convenience stores, a port for boat tours as well as a visitor centre with plenty displays about the treasures of the area.
Tired from pedaling, we decided to take a break the next day and reach the Shiretoko Goko Lakes by car. Of course we don't have a car so we had to hitch a ride! That's always fun in Japan as almost no locals travel this way. For Michal it was the first time in his life to hitchhike! We only waited five minutes to get picked up by a Japanese-American couple.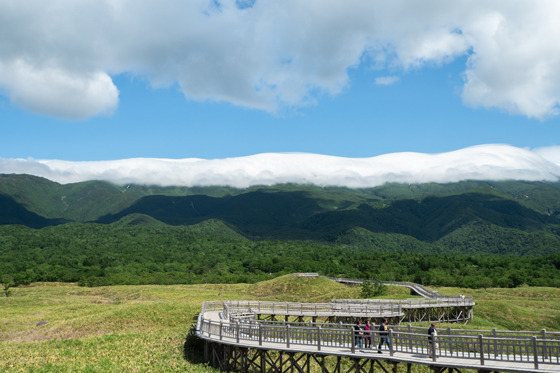 There's a visitor centre, a souvenir shop and public toilets at the Shiretoko Goko (Five Lakes) parking area. We learnt out route from a big comprehensive map and set off to the first lake. The weather was once again spectacular, so we could get a 360° view of the surroundings. Nature was this are resembles national parks we have back home so we were most eager to spot a bear. There are almost no bears in Czechia so that would have been the highlight of our visit! But bears are smart and they don't seek the company of humans.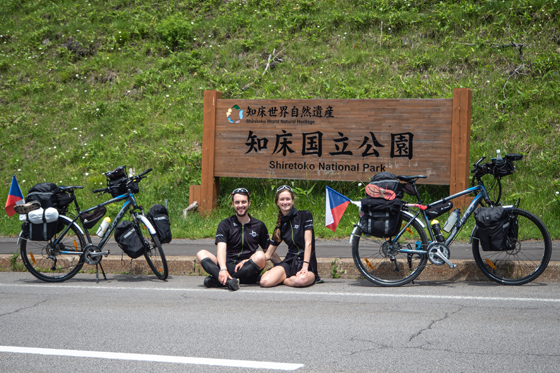 On day three, we left Utoro and cycled 15 km uphill to reach Shiretoko Pass, located 738 meters above sea level. Michal had never cycled this high so it was a rewarding experience. The views of Mt. Rausu and the Okhotsk Sea are splendid, it was surely the highlight of our visit of the National park. Many Japanese with super professional cameras gather at Shiretoko Pass for birdwatching and thanks to their kindness, we were able to see some cute little birds via the lenses of their sophisticated cameras.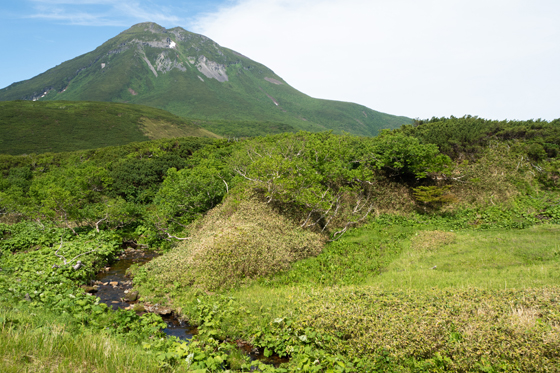 On the eastern coast of the Shiretoko Peninsula, campers are welcomed by a fabulous outdoor onsen. The Kumanoyu onsen was our first wild bath experience. Local people were very patient and friendly, they explained all the specific customs and rules to us and let us bathe with them. The onsen has a separate pool for men and women but we managed to visit it again in the very early morning to soak in the 46°C hot water together.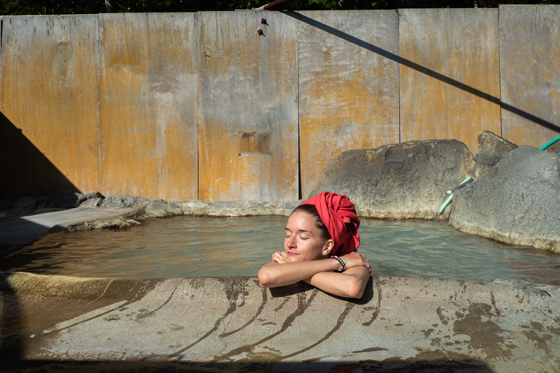 We said our goodbyes to Shiretoko and its wilderness at the port town of Rausu, which faces the disputed Northern territories. We could see the islands, called Kuril in Russian, very clearly from the coast. It was so incredibly cold on this side that we were forced to dress in our warmest clothes and cycle inland as fast as possible to escape this icy breeze.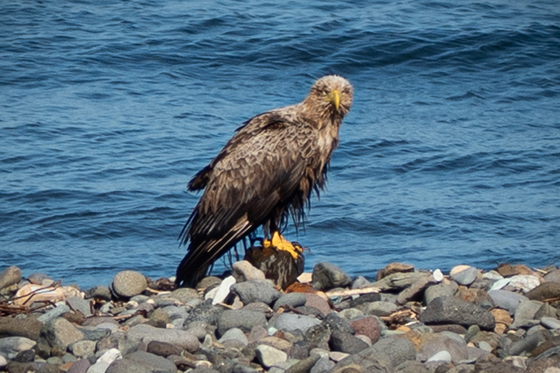 The next destination: Hokkaido's next national park, can you guess which one?