Episode 11 From Mikuni Pass to Sounkyo Onsen

Zuzana & Michal Czech couple
― CYCLING ACROSS JAPAN ―
Episode 11
From Mikuni Pass to Sounkyo Onsen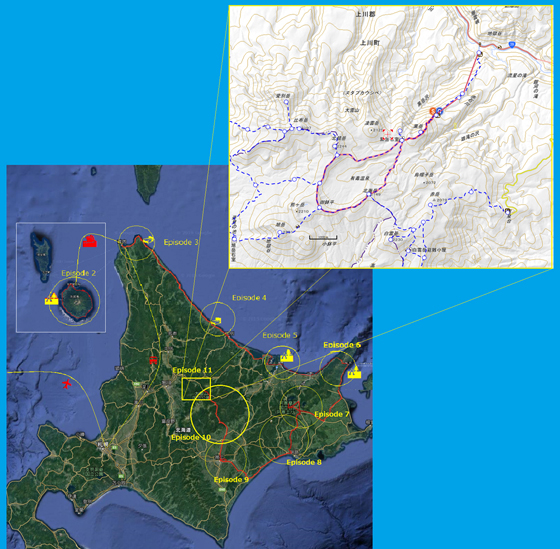 This is the continuation of the previous episode, where we described our regular cycling morning. Now we'll continue with the afternoon and evening of the course to Daisetsuzan 🙂
Mikuni Pass, at 1,139 metres above sea level, is the highest national route in all of Hokkaido. What a place to enjoy lunch! We feasted on rice with canned tuna, corn and horseradish. That's also our food classic on-the-go menu, which we buy in advance and prepare ourselves whenever we're hungry. We also gave out maybe 10 business cards at Mikuni Pass as there was a big motorbike gang, who were super curious about our trip. Before leaving, we took advantage of the splendid view to shoot a video for our Czech TV cycling show.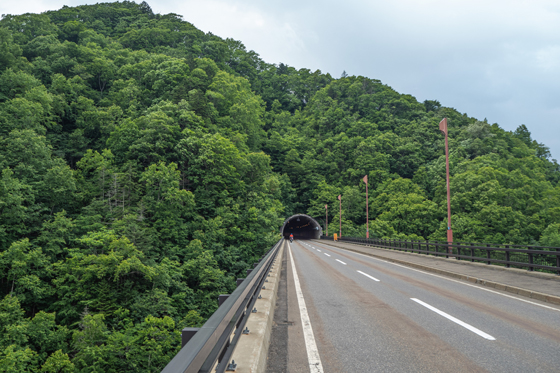 A few tunnels were ahead so we had to put on reflective vests and also add a layer of clothes against downhill wind. Placing extra pieces of functional wear at hand is essential when packing in the morning – this type of logistics we had to work out in the beginning because it turned out that having to unpack and search for stuff every time the weather or slope change is really annoying.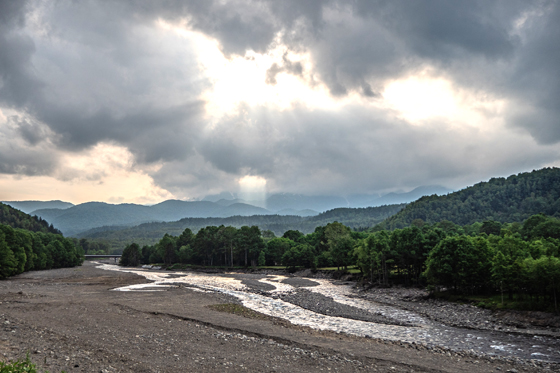 After some 50 km of cycling, we couldn't believe our eyes. The mountains around us had been high and mighty all day but suddenly a range of snow-covered, giant peaks emerged on the horizon even higher above the other rocks. We didn't expect to see snow in mid-July. This sight was so enchanting that we parked and munched on our second snack – milk coffee and chocolate biscuits. Unlike most office workers, who watch their diet, we aim to eat as many calories as possible to prevent losing weight. Happy times for our tummies :))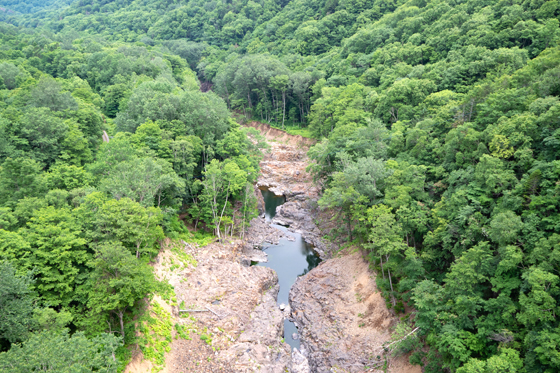 The final 15 km of today's portion were easy so we unexpectedly managed to arrive at our destination, Sounkyo Onsen, before sunset. The town has an official campsite which we naturally headed to. But, as it often happens when one travels, things don't go down quite as planned: the campsite was shut down! We had to improvise. First we headed to the information centre but it was already closed. Hotel staff didn't have any helpful information either so we simply cruised around town to find an emergency camping location for that night. Our criteria are: away from traffic, public toilets nearby, forests with bears as far as possible and flat ground with soft soil. Once we found a suitable spot, we pitch our tent, wash ourselves either in an onsen or in by a sink, get changed, hide our valuables inside the tent and place our bicycles under a roof. Have dinner, text our parents to say we're alive and happy, brush our teeth and oyasuminasai it is!