Episode 4 Road 238 -Bears and Japanese friends-

Zuzana & Michal Czech couple
― CYCLING ACROSS JAPAN ―
Episode  4
Road 238 -Bears and Japanese friends-
Saturday, 15th June, was a sunny day. However, the weather forecast for Sunday was dreadful. Heavy rains, wind and low temperatures are definitely not conditions for cycling or camping so we were looking for some regular accommodation. As it has become a rule, everything on Hokkaido is booked out during the season, so we couldn't find any reasonably priced hotel room.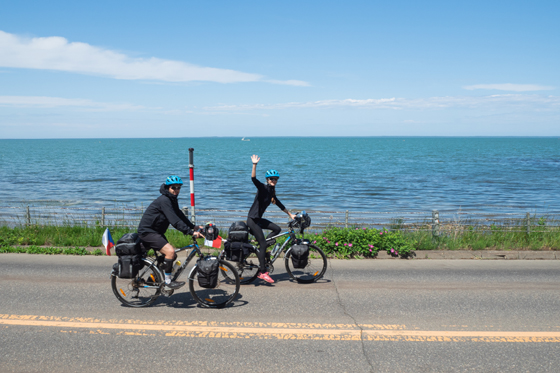 But we were very lucky – we got an email reply from the Okoppe tourism office saying we can stay for free at their facility in case we have our own sleeping bags. The email ended with "Please be careful". Free accommodation + "being careful" didn't sound too safe so we were quite afraid the whole day. What a relief the reality was! We were greeted at the Okkope Road Station (bus terminal), given instructions and introduced to an old train wagon. The town council transformed it into a free hostel for travellers. We'd never seen anything like this before and were absolutely excited and happy to have shelter for two nights.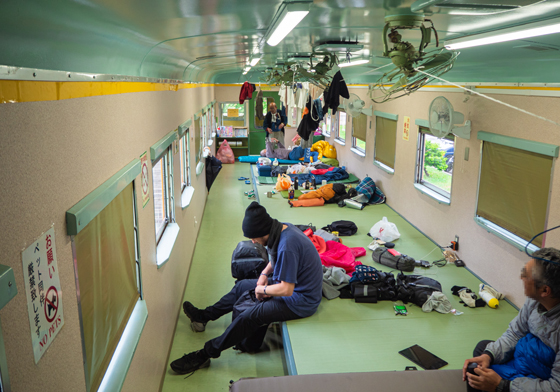 Staying in the train wasn't great just because it was dry, comfy and free. It was also perfect because we finally got to make some local friends. First we were approached by Mr. Tetsuji Araki, who spoke a little English but was great with Google Translate. He even took us for a visit to Okoppe's traditional Japanese house. This visit was pretty entertaining because we could try many things – Japanese chess, lying down on bear rug, putting fox hides around our necks etc… However, the craziest part of our visit was meeting Mr. Norihiro Oishi from the Okoppe hunter group. He's a professional bear hunter and explained the topic of cattle and human protection to us. He also presented us with two cans of bear meat! What a special gift, neither of us has ever tasted it.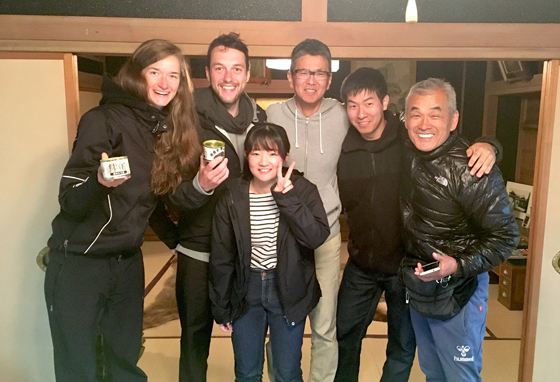 Our second "trainmate", Kensaku Sato (next to Michal on the picture), is an experienced cyclist who comes to Hokkaido every year. We were very lucky to meet such an expert of the area, he gave us a lot of tips for good cycling courses, accommodation and also general advice for touring Japan.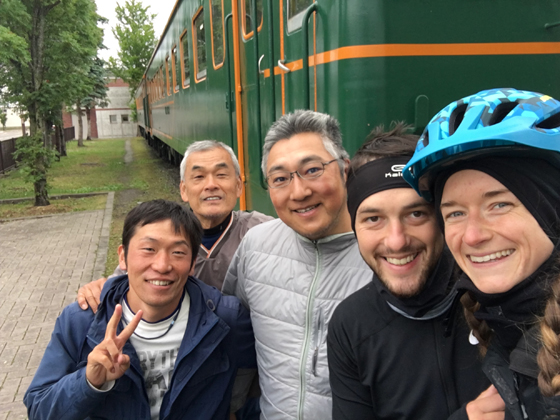 Our next destination was Yubetsu, a cozy clean town, were we accidentally ran into another sleeper train for the night. This time we were all alone until early morning, when a class of secondary school students came to the area for a barbecue and some outdoor activities 🙂 They were really cute, asking us a lot of questions about our trip and our country.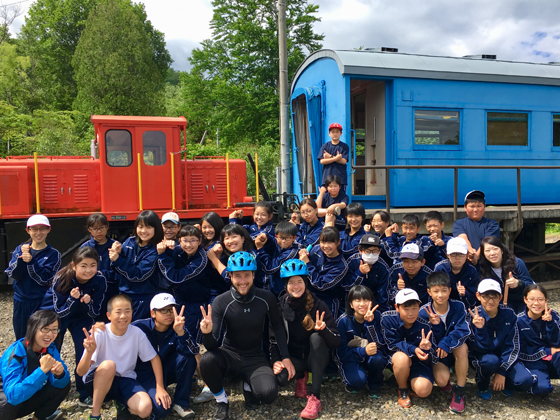 The next day was our very last day on route 238. It was also a record-setting day as we rode 86 km, our honeymoon's high so far! Basically the whole route from Yubetsu to Abashiri runs along the Abashiri Quasi National Park so there are nice views of lakes and birds on the coastal side. The inland side is pretty much just agricultural fields.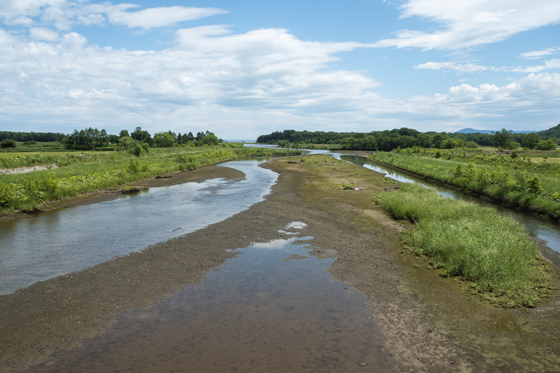 The last approx. 20 km of the route surprised us in a very positive way. Finally there was a dedicated cycle path so we didn't have to cycle along trucks and cars! It was a very rare experience as normally we don't see special roads for bicycles. At times we had to leave the path though because there were so many branches on it, that we were afraid of punctures.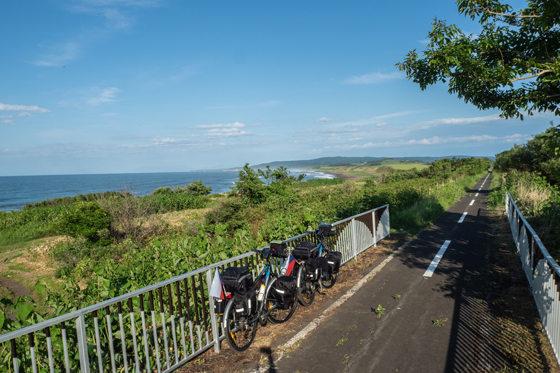 Abashiri was the first big town since Wakkanai so we decided to stay two nights and do laundry, shop for groceries and also visit the Abashiri Prison Museum.
But more about that in the next episode!