Episode 10 Cycling up to Mikuni Pass

Zuzana & Michal Czech couple
― CYCLING ACROSS JAPAN ―
Episode 10
Cycling up to Mikuni Pass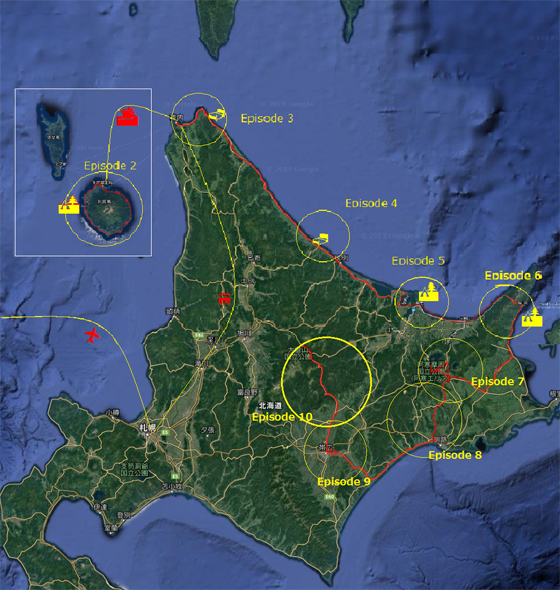 We've been on the road for one month now so we'd like to use this 10th post to describe what a regular day of our cycle touring across Japan looks like. It's very different from the life we live back home and probably very different from our readers' lives so hopefully you'll find it interesting. Or even inspiring!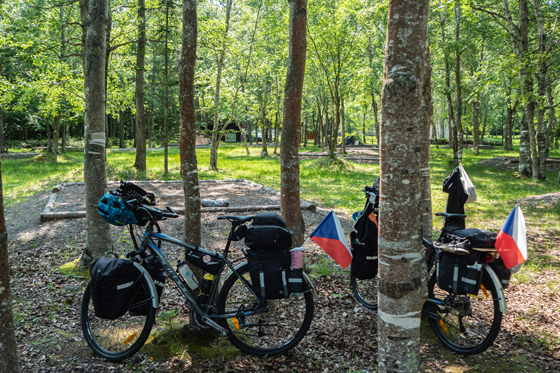 Thursday, 11th July. We had left Ivan and Mao's home in Obihiro, where we enjoyed 4 nights of regular sleeping (that means indoors, with bed sheets, on a mattress and under a blanket). Now it's time to camp again. We select our camps in advance. Actually it is campsite locations that determine the length of our daily route: on average we cycle between 45 and 70 km a day, depending on the terrain and on the availability of campsites.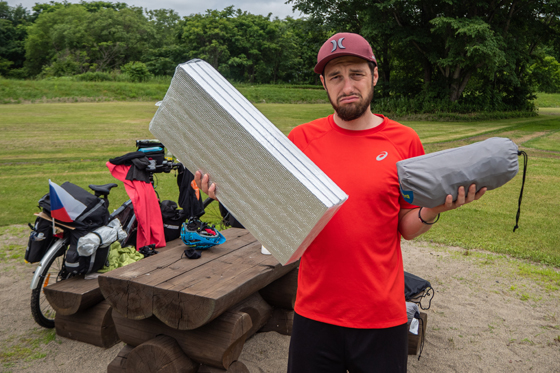 Tonight we woke up at Nukabira. Our mat leaked and got all moldy so we had to buy a new, terribly bulky, one. The first thing we do is take our sleeping mats and sleeping bags outside of the tent to let them dry out in the fresh air, ideally on the sun. Tents are a bit like greenhouses – they get sweaty. Next we go to the toilet and get dressed in our cycling outfit. By the way it's fantastic how clean and well-maintained public toilets in Japan are, that makes life of travellers very comfortable. Then we eat breakfast: 3 pieces of bread for each of us, with butter and marmalade. At times we treat ourselves to tamagoyaki, fruit juice or bananas on top of the regular menu. After brushing our teeth, we fold the tent and pack everything up. The last task is to fill all our bottles with drinking water to stay hydrated during the day.
This entire morning routine takes us between 2 and 4 hours. That means we normally start pedaling around 11 am. Nukabira was an exception: we knew a hard course was awaiting so we set off at 10 am. Many cyclists are much faster than us but we travel slowly because we like to enjoy the countryside and spend time taking pictures and shooting videos.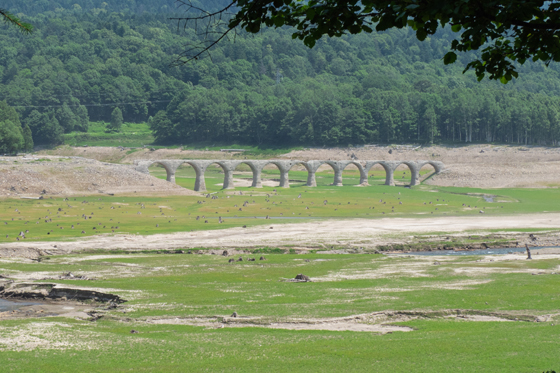 The way up to Daisetsuzan mountains asked for many photo breaks. Abandoned bridges, picturesque mountains and wild streams were all great occasions to stop chasing kilometres and dedicate a few minutes to sightseeing. The most alluring man-made attraction was the Taushubetsu Bridge. This soon-to-collapse structure, erected in 1937 as part of the old Japanese National Railways' Shihoro Line, becomes completely submerged in Lake Nukabira every June, when the water level rises due to rainfall and melting snow. We could luckily enjoy it at "low tide".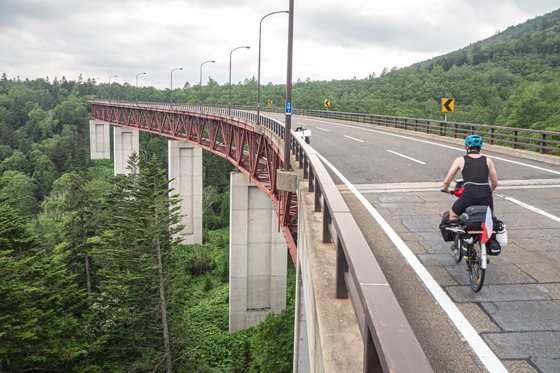 Our first snack time was planned after 16 km, i.e. in one fourth of the total route. The clock hit 12:43 at this milestone and we realized that just like usual, we are behind schedule. So we ate quickly and promised ourselves to reduce the time we spend drinking all the surrounding beauty in. The resolution worked out and we reached Mikuni Pass, our highest point that day, by 3 pm.