Culture
06-22-2019
Harie Shozu no Sato (Village of Living Water):
—Waterside life with kabata wells—
| | |
| --- | --- |
| Print | |
​
| | |
| --- | --- |
| | |
Have you ever heard the word kabata? In the Harie district of Takashima City in Shiga Prefecture, on the western shore of Lake Biwa, underground water flowing from the Hira mountains gushes forth naturally, and for generations local residents have used this spring water for their daily chores. They call it "living water" (shozu). Before the diffusion of tap-water services, they used this spring water for everything from drinking and cooking to doing the washing. The places in houses or in the community where this "living water" bubbled up were called kabata (a kind of well). These kabata were cherished as places where water could be obtained from nature and where people gathered for a chat. After the diffusion of sewerage and tap-water systems, the kabata went out of fashion. But in recent years, with growing awareness of the need for environmental preservation and increased importance placed on water and the harmonious interaction between human settlements and nature (satoyama), this system of utilizing spring water has been attracting much attention. In particular, when NHK produced a program and DVD about Harie's kabata, titled "Satoyama: Japan's Secret Watergarden," in 2004, it drew an enormous response from both Japan and overseas. I myself remember being very moved by that program, and I had wanted to visit the district for some time. Recently my wish was fulfilled, and a representative of the Harie Shozu no Sato Committee kindly showed me around.
The Harieokawa River in front of Hiyoshi Shrine, dedicated to the local deity of Harie, and a former landing place used when rice-field boats were the main means of transportation.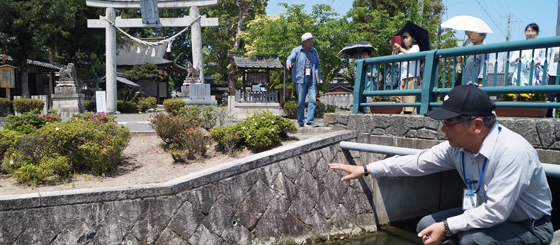 Mr. Susumu Miyake (front), chairman of the Harie Shozu no Sato Committee, gives an explanation in front of Hiyoshi Shrine.
Clear River Inhabited by Baikamo Waterweed​​
 It was a fine day in the middle of May 2019 when I visited the office of the Harie Shozu no Sato (Harie, Village of Living Water) Committee, located by the Harie District Community Center. My guide for the day was Mr. Susumu Miyake, chairman of the committee.
 First of all, as we gazed at the Harieokawa River flowing between the community center and Hiyoshi Shrine, Mr. Miyake began his explanation of the "Village of Living Water." Actually, although it is called okawa (big river), the waterway is not so wide. In the limpid flowing stream, I could see green waterweed gleaming in the strong sunshine. Having been to the city of Mishima in Shizuoka Prefecture, a district of abundant natural spring water, I immediately asked, "Is that baikamo?" "Yes, it is!" replied Mr. Miyake, looking quite chuffed. Baikamo is an aquatic plant whose small white flowers look like plum blossoms. (Hence the name, which literally means "plum-blossom waterweed.") Since baikamo can only live in clear water, its presence was testimony of the good quality of the Harieokawa River's water. Read more…
« Older Entries
The latest category news list