Episode 26 Matsushima Bay and Sendai

Zuzana & Michal Czech couple
― CYCLING ACROSS JAPAN ―
Episode 26
Matsushima Bay and Sendai
Life is often like that: when you await amazing things from some place or situation, it doesn't meet your expectations. And when you expect nothing much, magical things happen. Matsushima Bay is supposed to be one of the top 3 scenic points in Japan. We were very excited to cycle there.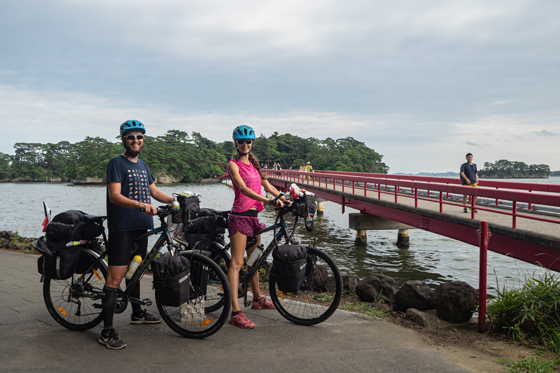 The day we arrived wasn't a lucky one. We missed the last sightseeing boat by 5 minutes and the forecast showed rain from the evening until 2 days later. So we decided to at least stroll around the Fukuurajima island.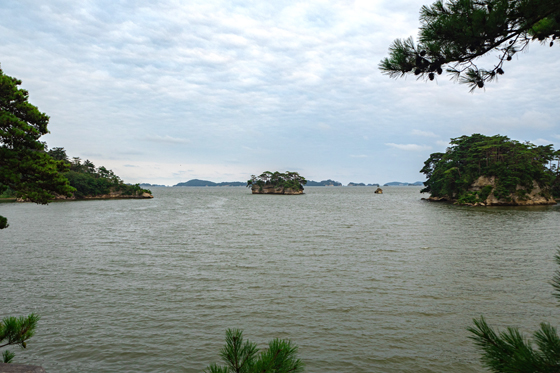 The funniest thing happened to us. To enter Fukuurajima, one has to pay 200 yen to a vending machine. Michal only saw a 10 000 yen bill in our wallet, which was not accepted. The staff couldn't help us. One Japanese couple spotted our hopelessness and gave us a 500 yen coin. Once we entered, Michal at least returned the 100 yen coin change to them. A few minutes later, he took a proper look and realized we did have coins in our wallet! So he chased the kind couple, returned the money and apologized. We had a big laugh all together!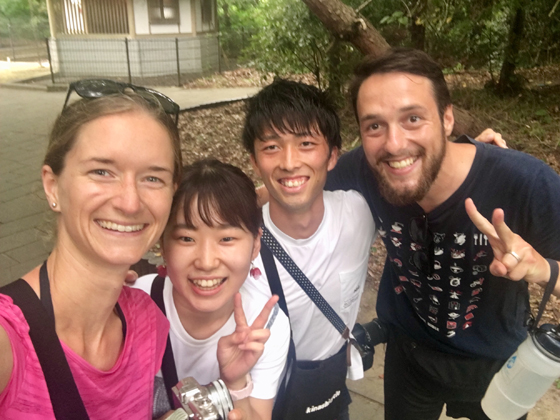 Given the bad forecast and our feeling that there wasn't much more to experience at Matsushima, we left for Sendai. We spent two nights at a hotel there, relaxing, working and outlasting the rain.Our next destination was Date. Unfortunately we couldn't reach the town because we were hit by very heavy rain on the way.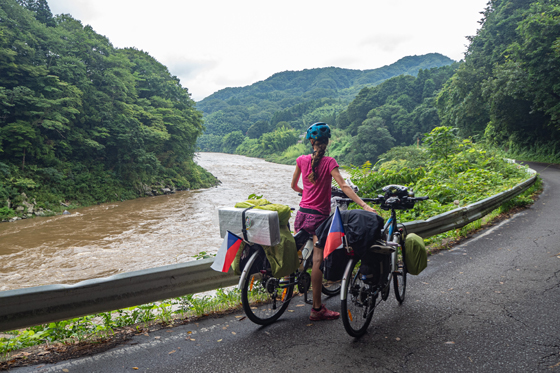 The following day was sunnier and thus let us enjoy a lovely ride along the Abukuma river. No guidebook mentions this valley but it should be at least on cyclists' agendas! The river is pretty fascinating thanks to its omnipresent swirls and whirls.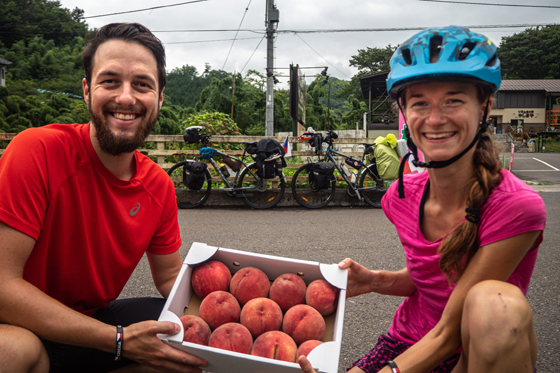 One other thing made us fall in love with the Abukuma valley: we stopped by a road shop selling peaches, thinking we'd buy two for a snack. While we were parking our bicycles, an older gentleman approached us and offered a full box of the delicious fruits. We can't believe how kind Japanese people are to us! どうもありがとうございました