Episode 7 Akan Mashu National Park

Zuzana & Michal Czech couple
― CYCLING ACROSS JAPAN ―
Episode 7
Akan Mashu National Park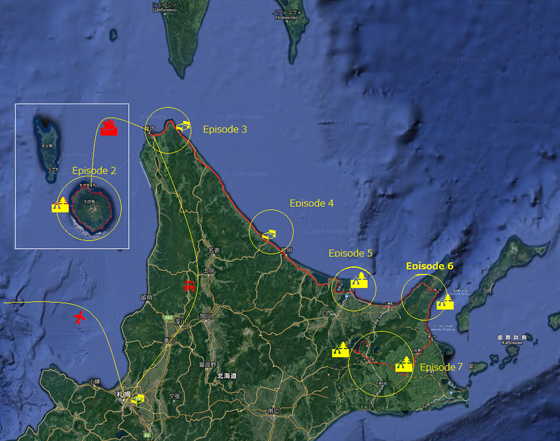 The North East of Hokkaido has a high concentration of national parks so we set on a tour to see all of them. After visiting Shiretoko, we camped in Shibetsu and headed inland from there. While cycling towards the next park, we ran across an amazing campsite in Nijibetsu. We had planned to sleep there just one night but ended up staying three! It was by far the best campsite we have visited so far. While normally campsites have just bathrooms and sometimes washing machines, this one had a main building with comfortable seating, plugs for charging and also showers! We took advantage of this opportunity and wrote articles and edited videos for our Czech media partners. The facilities are managed by a wonderful couple, Kazumi and Yayoi Masuda, who were super friendly and helpful.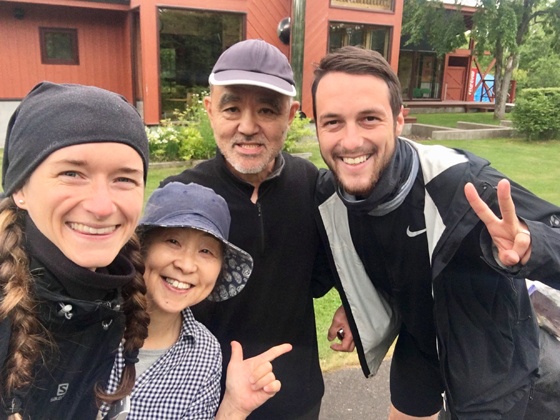 Once we said goodbye to the Masudas, we headed off to the Akan Mashu National Park. As per our Okkope friend's recommendation, we pitched our tent on the Wakoto peninsula. While the campsite itself was a bit dated, its location made up for any discomfort. We slept right on the shore of Kussharo lake, next to an amazing wild open-air onsen. We bathed there at night sometimes and had foxes and stags come round!
Kussharo is the biggest caldera lake in Japan. It has impressive, turquoise waters and plenty of fish. The weather wasn't good for canoeing so we enjoyed views of the lake just by cycling around. A short walking path around the Wakoto peninsula also offers nice panoramas. We could even watch a well-edited video about the national park in the Wakoto visitor centre.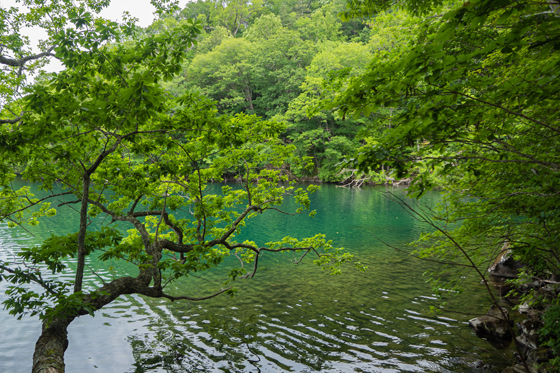 The most breathtaking experience, however, was observing Atosa Nupuri, or Mount Iō. It's an active volcano that erupted in April 2018. Visitors are allowed to stroll really close to many of the sulfurous vents. Their strikingly yellow colour is both admirable and scary.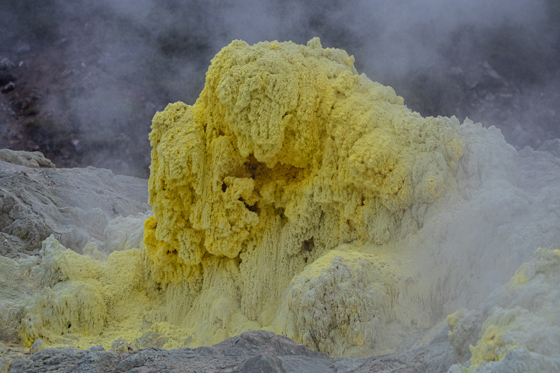 After feeling overdosed by all the fumes coming out of this slope of hell, we left our bikes in the parking lot and hiked a bit on a signposted walking trail that connects Mount Iō and Kawayu onsen. There was a sign saying a bear cub had been spotted just 24hrs ago! That was so far the closest we have been from spotting this mythical Japanese creature 🙂
Once we reached Kawayu onsen, we took a pleasant foot bath. It's built pretty much in the middle of town, which makes it very casual and comfortable. We're really grateful to be able to soak in all these onsens on our way. Everybody loves a hot bath but for cyclists and other sportsmen, it's even more rewarding. Our bones, muscles and skin couldn't be happier!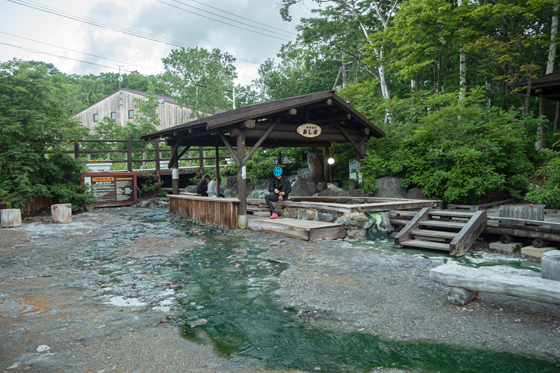 To end with, we have to say Akan Mashu isn't receiving as much attention as it deserves. Despite the bad weather, we had a lovely time there and would have liked to stay longer to see more of the park! We regretted seeing such an attractive area so empty – judging from the numerous abandoned hotels, very few tourists come here, which is a big pity!