Tradition
03-04-2019
The Hanging-Doll Decorations of Izu Inatori
—Parents' never-changing love for their children—
| | |
| --- | --- |
| Print | |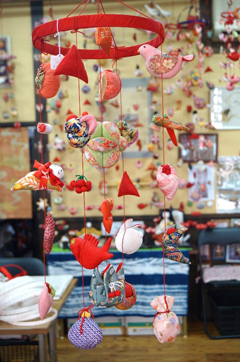 On the occasion of the Hina Matsuri (Doll Festival), which is also known as the Momo no Sekku (Peach Festival), households with girls display cute little hanging dolls on both sides of the standard tiered platform of hina dolls. Each of these warm, colorful decorations is about the size of an infant's hand. These days the custom can be seen throughout Japan, but its birthplace is Inatori (Higashi-Izu Town, Kamo-gun, Shizuoka Prefecture), located in the southeast of the Izu Peninsula. I visited this scenic port town to see this representative handicraft of Izu Peninsula.
Giving shape to prayers
 Hanging-doll decorations are a custom dating from the late Edo period (1603–1868) that is unique to Izu Inatori. Mothers and grandmothers would make dolls by hand, one by one, as prayers for the sound health and luck in encountering good marriage partners of girls greeting their first Doll Festival (on March 3). Previously the custom was to display these hanging dolls on both sides of the tiered platform of hina dolls, but these days, because of the lack of space in apartments and other dwellings, an increasing number of families just celebrate the festival with the hanging dolls. And many families now decorate the indoor entrances and living rooms with hanging dolls not only at the time of the Doll Festival but throughout the year, as kind of Japanese-style mobiles, so hanging dolls have become a colorful part of everyday life.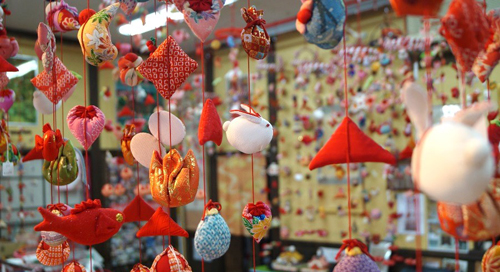 Read more…
« Older Entries
The latest category news list