Restaurants
05-24-2018
Ms. Kieko Suzuki, attractive Junior Proprietress of Takaraya Restaurant,
Founded in 1897,
Talks about Hospitality for Foreigners and the Attractions of Kisarazu

In the past Kisarazu in Chiba Prefecture, a city that has continued to develop in recent years following the opening of the Tokyo Bay Aqualine expressway, had many classy Japanese-style restaurants and geisha houses (from where geisha were sent upon request to entertain customers at restaurants). At its height, this entertainment area had about 200 geisha going around dressed in colorful kimono. Even today, there are still geisha practicing dancing and samisen every day at the Kisarazu Kaikan, which is used as a training facility for them. I asked Ms. Kieko Suzuki, the junior proprietress of the well-established Takaraya restaurant in Kisarazu, who is also active as a radio personality on the bayfm78 channel and in other ways, about the attractions of the city and the efforts of her restaurant, which is very popular among foreigners.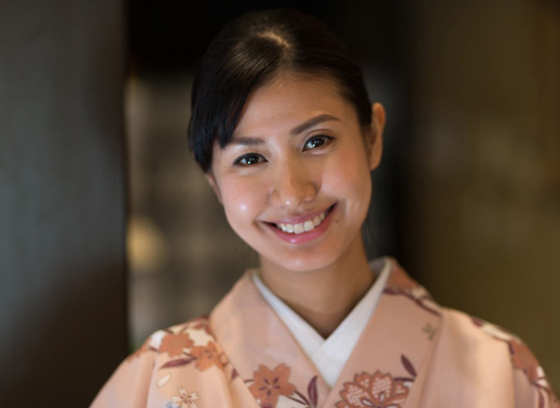 Ms. Kieko Suzuki
An entertainer on screen and in the restaurant
—I hear that you spent eight years in the United States. What did you do during that time?
I went alone to America at the age of 14 and spent four years there in high school. [Secondary education in the United States lasts for four years.] Then I entered the University of Southern California. I took a break from my studies there to work for a while as an actress in Japan, but later I returned to America and, while attending university, received lessons at the Actors Studio, a drama school in Los Angeles. In America at that time, Asian people were synonymous with action movies, so as well as taking part in television programs, I also auditioned for kung fu films!
In Japan I was selected as the heroine in the film Kishiwada shonen gurentai: Kaoru-chan saikyo densetsu [The Bad Boys of Kishiwada: The Legend of Kaoru-chan; 2001], and I also appeared in the television drama Aibo and others.
Those younger days spent in America and my experience as an actress are proving to be valuable in my present restaurant work in a variety of ways. As an actress, though stage and film are different, a commonality between the two is the importance of spontaneity. Everything hinges on that single moment. We tend to think of actresses as individual performers, but actually they are pieces of a whole playing the parts they have been assigned. Even if you come up with some kind of acting plan yourself, although it may fit perfectly sometimes, on other occasions the outcome is totally different because of such factors as rapport with the other actors or instructions from the director. A restaurant is a kind of living environment as well. Like an actress, a proprietress needs to be flexible and capable of responding as the situation demands.
| | | |
| --- | --- | --- |
| | | |
| In her younger days as a budding actress | | |
The latest category news list