Episode 9 Obihiro with locals

Zuzana & Michal Czech couple
― CYCLING ACROSS JAPAN ―
Episode 9
Obihiro with locals
Cyclists generally try to avoid big cities. Traffic is heavy, the air is polluted, navigation is difficult. We are not different so when we planned our route, we originally aimed to bypass Obihiro, one of the larger towns in Hokkaido, and head straight to the mountains. But after a month of cycling, camping and celebrating our 1000th kilometre on the road, it was time to change environments.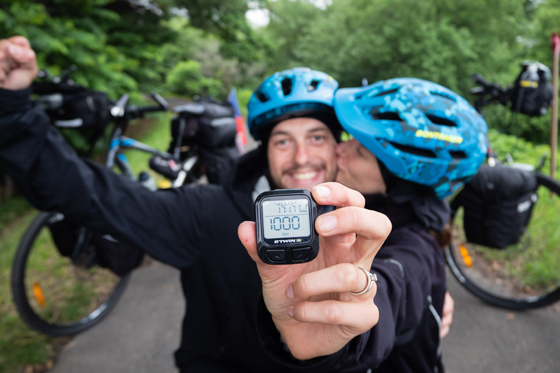 Have you heard of Couchsurfing? It's a global network of people interested in other cultures, languages and travelling. The main purpose is to connect travellers with locals. Couchsurfing works like a hospitality platform: local people offer free accommodation to travellers, they spend nice time together exchanging stories and experience. Japan has quite a closed society so there are not as many participants but we were very lucky to find a lovely host family on CS in Obihiro.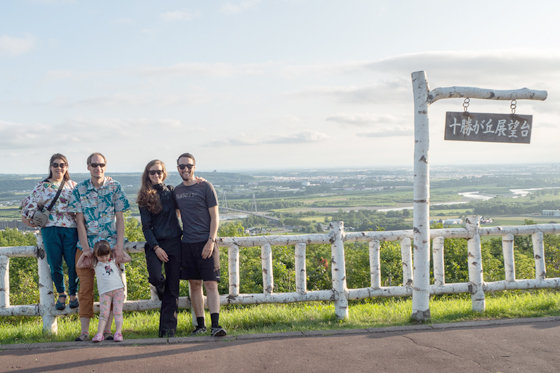 Ivan, a spine surgeon from Russia and his wife Mao have lived in Obihiro with their two kids for 4 years now, so they're pretty knowledgeable of the area. Upon our arrival, they took us to their favourite restaurant. We tasted plenty local specialities including a meat skewer set on fire right on our table! Our favourite was tororoimo though.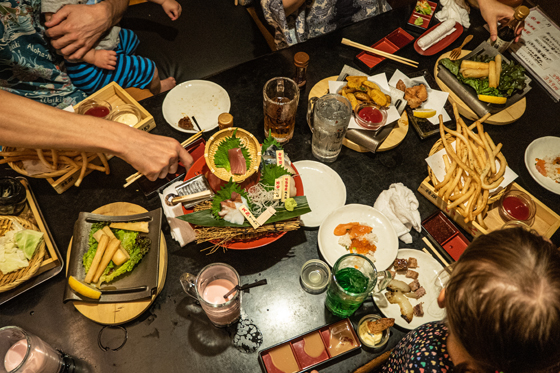 Ivan and Mao had prepared a guest room just for us so a great meal was followed by a great night's rest. Michal got to sleep on a tatami for the first time! It was so comfortable for both of us to swap our sleeping bags for normal duvets for four nights 🙂 And we also had a toilet premiere – we hadn't come across toilets whose seats lift automatically. That's very convenient. The Japanese are so innovative when it comes to toilets, haha!
Our Saturday with the family was a wonderful and packed day. First we drove up to the mountains on road 111, an abandoned construction project that was meant to cut through the Hidaka range. We got to spot bear excrement, walk through closed tunnels and try out how our sounds echo there. The local visitor centre displays a stuffed bear who killed three Fukuoka students in 1970, Ivan introduced us to this incident in more detail and gave us further advice on how to avoid danger (in case a bear searches your belongings, leave them and don't touch them, otherwise the bear will feel you're taking his property).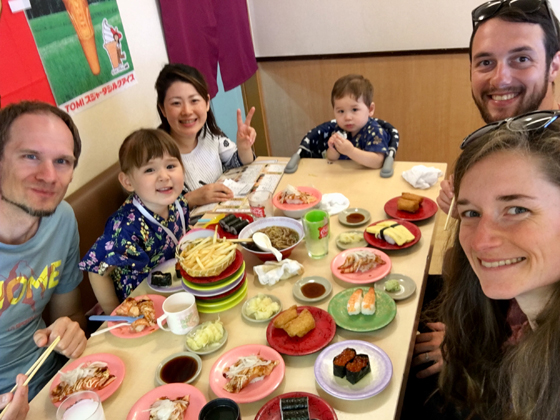 Next we stopped by a farmers' market for a bowl of Oyakodon (oishi!) and headed to a wonderful onsen just outside of Obihiro. It was the first time we were given special onsen clothing, something like a swimsuit. It was quite cute. We coined the day with a dinner at a sushi restaurant.
Sunday was a festive day, because the family's daughter's kindergarten was holding their annual summer festival. We had no idea what to expect but the event turned out to be really interesting for us. There was a bunch of really sweet kids dressed in all different kinds of yukata, singing, dancing and playing. Next to this minifestival was a match of local baseball teams so we also managed to take a glimpse at some gripping sports rivalry.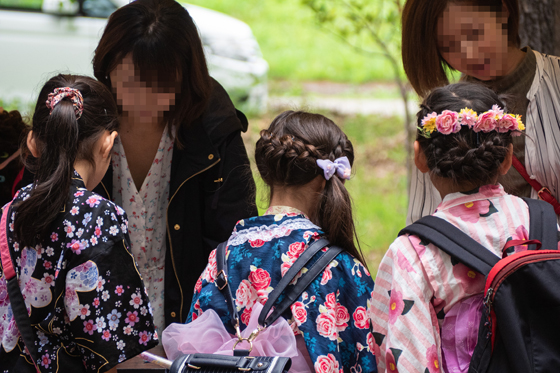 Since we were treated so generously and kindly, we tried to give back by cooking some Europen dishes for the family. Not all ingredients were available at the supermarket but still the result was yummy! All in all, we have not eaten this well since our arrival to Hokkaido because we travel on a budget. Obihiro and our fantastic Couchsurfing family will stay in our gastro memories forever.