Koyasan, the headquarters of the Koyasan Shingon sect of Buddhism, was founded 1,200 years ago by Kukai (774–835) as a training center for the Shingon sect. In July 2004 it was registered as a UNESCO World Heritage site as part of the "Sacred Sites and Pilgrimage Routes in the Kii Mountain Range," as a result of which the number of foreign visitors has been increasing. In this article I introduce the attractions of Koyasan through my experience of a solemn ceremony that takes place once a year and the unique accommodation facilities, called shukubo (temple lodging).
Evening-Before Ceremony Bedecked with Flowers and Candles
Kukai is said to have passed into eternal meditation at Koyasan on March 21, 835, by the lunar calendar. This year that date fell on April 23. An evening-before ceremony called Otaiya was held on April 22, and on April 23 there was a grand festival called Kyu Sho Mie-Ku.
The Otaiya ceremony made use of all the Danjo Garan* buildings. At six in the evening ordinary worshippers holding small flower bouquets and candles gathered on the lantern-lit temple approach. The area around the Miedo (Portrait Hall), which displays a portrait of Kukai, was bedecked with flowers and candles offered by worshippers.
At the Kondo hall, located by the Miedo, there was a dedication of songs and dances, and at the Daito (Great Stupa) there was a memorial service for the victims of the Great East Japan Earthquake. The sound of sutra reading could be heard coming from all of the Danjo Garan halls, and each was warmly lit up by a bonfire. The Miedo is open to the public just once a year on this day, so worshippers, each with their own personal prayers, waited in a long queue to enter.
* Danjo Garan: This is the general name for the group of halls and buildings built by Kukai on the basis of esoteric Buddhist thinking.
Impact of Earthquake Disaster and Nuclear Power Plant Crisis Evident at Koyasan Too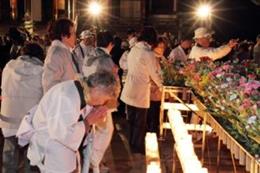 At the evening-before ceremony I met a Canadian couple. When I asked if I could have a little talk with them, because the number of foreigners visiting Japan has dropped due to the impact of the earthquake disaster and nuclear power plant crisis, they replied apologetically, "We're so sorry. Everyone is just too nervous." The couple had visited Japan to attend the wedding of a friend in Nagoya. After the wedding, they had enjoyed themselves following the Kisoji route.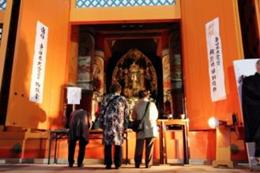 "Koyasan is wonderful too," they said. "And when we return home, we'll tell all our friends that there are absolutely no problems due to the disaster."
I also spoke with a group of Australians. "When I told them I was coming to Japan, people said I was crazy," one of them laughed. "Donations are fine, but I came because I thought actually coming to Japan was a way of support. There are no problems at all. I'm really enjoying myself."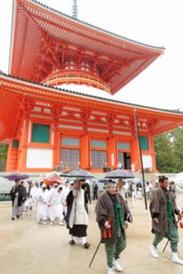 Weight of History Felt in Solemn Memorial Service in the Rain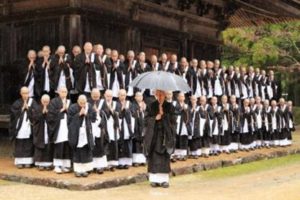 In the morning of April 23 the memorial service moved to the Okunoin*, the site of the Gobyo mausoleum where Kukai is said to be continuing eternal meditation even today. In the rain falling quietly on the cobblestones, there was a procession of senior monks holding long-handled umbrellas. And in the Torodo (Lantern Hall), just in front of the Gobyo, a solemn memorial service was held to express gratitude for Kukai's constant divine protection.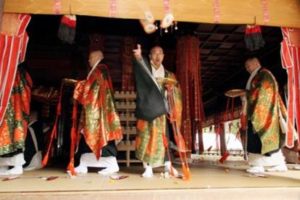 In the afternoon the memorial service moved back to the Danjo Garan. After tea and flower offerings in the Miedo, monks brought the two-day festival to an end with repeated sutra readings and sange (the scattering of flowers and lotus-shaped paper in memory of Kukai).
* Okunoin: This is the central part of Koyasan faith. In the mausoleum at the very back, Kukai is said to be in a state of deep meditation that has continued for more than 1,200 years. The 2 km road leading from the Ichi-no-Hashi (First Bridge) to the mausoleum is lined with the moss-covered gravestones of famous lords of the Warring States period (1467–1568) and towering cedars more than 1,000 years old.
Temple Lodging Experience
It only takes about 90 minutes to reach Koyasan from Osaka: 80 minutes by special express train from Namba to Gokurakubashi Station and then 10 minutes by cable car to Koyasan Station, 330 meters up the mountain (just one station). So visits for worship or sightseeing can easily be done in a single day. But when making the trip to Koyasan, visitors are recommended to experience the temple lodging that is available.

I spoke with Daigen Kondo, the chief priest of Ekoin temple, which is popular among foreigners as well. 
Q: Please tell me the relationship between the Shikoku Pilgrimage and Koyasan.
A: After completing the Shikoku Pilgrimage, many people visit Koyasan in order to express gratitude for the safe journey and report that they completed the pilgrimage. But this is not a must. And some people visit Koyasan before starting the pilgrimage to pray for safety along the way.
Q: I imagine the number of ordinary visitors has increased since Koyasan was registered as a World Heritage site. What are the recent trends?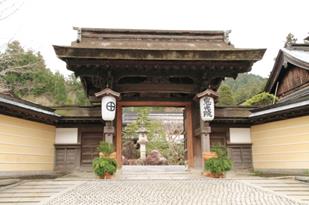 A: While many Japanese come to hold memorial services for the deceased or worship, a lot of foreigners come in order to see Japanese culture. These days many Japanese are attracted by the "power spot" advertising copy, but personally I think this is different from getting close to religion and seeking a miracle. I would like people to remember that miracles happen when you do your best and believe. As for foreigners, our temple also received nearly 1,000 cancellations following the earthquake disaster and nuclear power plant crisis. They don't seem to understand that there is no problem at Koyasan.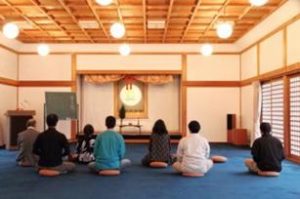 Q: What are the problems in temple lodging, if any?
A: The Mandala thinking in Buddhism has a very tolerant view of the universe and does not discriminate at all among Buddha, human beings, animals, and so on. All religions are the same in that they seek to save people's souls. The Shingon sect has a strong respect for other religions, so I don't think there is any religious problem here.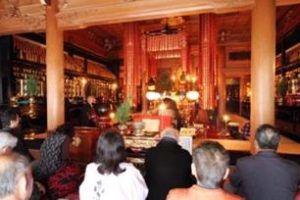 ​
Our temple is purely Japanese style, and we try to make it very temple-like, so we do not emphasize the kind of comforts you get in hotels. For example, the doors have no keys, and you cannot take a shower in the morning [laughs]. People who do have special needs should contact the Shukubo Temple Lodging Association, and they will introduce a temple that meets these needs.
Q: What do foreigners enjoy about temple lodging?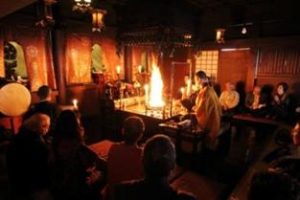 A: Since they come looking for Japanese culture, foreigners enjoy just staying in a purely Japanese-style room in a temple. At our temple, visitors can experience the Ajikan method of mediation, the method of meditation of the Shingon sect of esoteric Buddhism. Also, from 6:30 every morning there is a sutra reading in the main hall, and from 7 small pieces of wood are burned on the altar in the Bishamondo hall [to invoke divine help].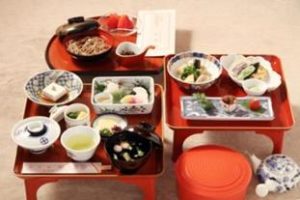 These bonfire prayers are especially popular among foreigners. Almost 100% of our foreign guests participate.
Meals are vegetarian and relatively fancy. Rather than the fare of trainee monks, they are the cuisine served at temple gatherings. No meat is used at all, so people who have dietary restrictions for religious reasons or prefer vegetarian meals are very happy.