Kochi Prefecture: A Visit to See Pristine Landscape and Culture 2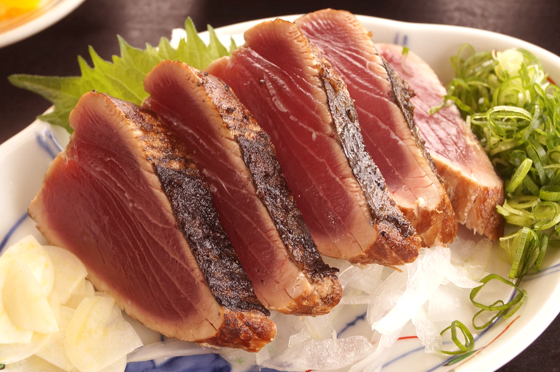 Kochi Prefecture's Delicious Seared Bonito Fillet
According to a survey by the Jalan online hotel and travel booking service, Kochi Prefecture ranks number one in Japan in terms of having much delicious local food and is described as a "treasure house of food ingredients obtained from the blessings of nature." Kochi's food culture, created by various cooking techniques using seasonal produce harvested from the ocean, mountains, and rivers, makes both local people and travelers smack their lips. In particular, locals and visitors alike love Kochi's seared bonito fillet (katsuo tataki), and many outsiders visit the prefecture just to partake of this iconic prefectural dish.
  There are many explanations of where the word tataki in katsuo tataki comes from. One of the most plausible is that in preparing the dish, people used to roast the bonito, cut it up, add seasoning or sauce, and then beat it (tataku) so that the flavor sank in. That cooking method is not used very much these days, though.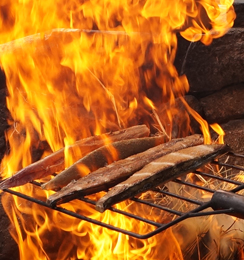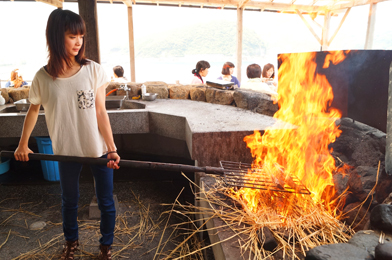 The most common method used in Kochi Prefecture is to broil the bonito over a straw fire. The heat intensity from a straw fire is much greater than that of a gas burner, so the surface of the bonito can be roasted in an instant. At the same time, the straw fire gives the surface of the bonito an original fragrance, thereby making the fish even more savory. It is thanks to this searing by straw fire that the bonito has such a pleasant aroma on the surface and succulent texture inside. Apparently the bonito fillet is most tasty when eaten immediately after searing with the skin still in place and the surface still warm.
  Bonito caught by single-hook fishing are used. If they are not constantly swimming around, bonito soon die. Bonito that are caught in a net lose their freshness, because they quickly die but then spend a long time being dragged through the sea before being pulled onboard. If you want to enjoy the real McCoy, you are recommended to avoid frozen bonito, which have a clearly different taste, and eat bonito caught in the months from April to October and immediately placed in cold storage.


Cooperation:
Kuroshio Kobo
8009-11 Kure, Nakatosa-cho, Takaoka-gun, Kochi Prefecture 789-1301
TEL 0889-40-1160 FAX 0889-40-1190
http://honjin.or.jp/koubou/index.php (Japanese site only)
Fishermen's Culture Lives On in Kure
Kure in Nakatosa-cho, Kochi Prefecture, is a harbor town that prospered in the middle and premodern ages through the transport of timber and charcoal produced in the Shimantogawa river basin and fisheries. Even today, the nearer you get to the harbor, the more houses there are, and Kure is characterized by winding roads that are just wide enough for vehicles to pass. The harbor and fishing town have been designated as a cultural property ("important cultural landscape") of Japan. Walk around for an hour, and you certainly get a feel of the atmosphere and lifestyle of a fishing community.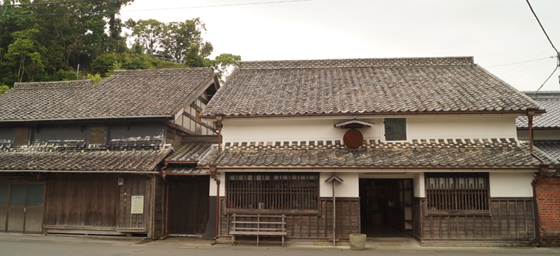 Nishioka Sake Brewery, which was established in the mid-Edo period (1603–1868) and marks its 234th anniversary this year, is the oldest extant sake brewery in Kochi Prefecture. The building, which still stands in its original form, is used to manufacture local brands. The deputy chief brewer, Mr. Hirofumi Shimamura, told me, "We have continued to produce the flavors of the past, but at the same time we are always aware of the need to make sake suited to the present times." He went on, "The characteristic of our sake is its dryness. This is a fishing community, so we make sake that goes best with seared bonito fillet. Food and drink go together, so we try to make sake that goes down well with a meal."
The interior remains exactly the same as the original. Requests to look around are accepted at all times, but visitors are recommended to make reservations beforehand to be certain.
  Good quality water is essential for making tasty sake, and this brewery uses underground water pumped up at the site. Although the brewery is located by the sea, it uses the soft and very high-quality water flowing underground from the upstream Shimantogawa river basin, which is ideal for sake making.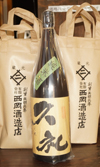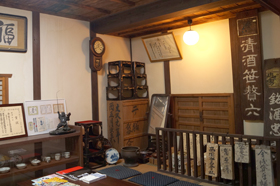 Old counters and utensils are carefully preserved and displayed.


Cooperation:
Nishioka Sake Brewery
6154 Kure, Nakatosa-cho, Takaoka-gun, Kochi Prefecture 789-1301
TEL 0889-52-2018 FAX 0889-52-5980
http://www.jyunpei.co.jp/ (Japanese site only)
Kure Taisho-machi Market: Sharing the Day's Spoils
Kure Taisho-machi Market, which has been operating since the Meiji period (1868–1912) as a local source of kitchen ingredients, consists of a dozen or so small stores selling fresh fish, dried fish, vegetables, fruit, prepared side dishes, bowls of rice topped with seafood, and other items. It is said to have begun as a place where local people would share leftover produce that they had harvested but were unable to eat themselves.
  The stores open before noon, with the produce harvested that day displayed in their narrow front spaces, and the bustle reaches a peak around 2 p.m., with customers coming from both inside and outside the prefecture. Between the permanent stores, local women set up foldable counters to sell the fish caught by their husbands and sons. Customers chat with the vendors about how to cook the seasonal food ingredients and fish. The arcade is full of smiling faces and cheerful shouting.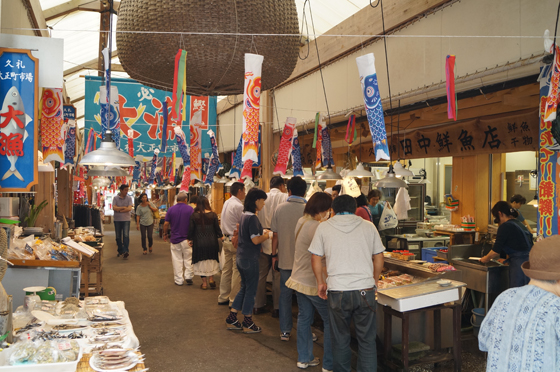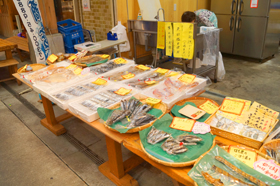 I asked Mr. Takahiro Tanaka, a fishmonger, about the reason for the vitality. "Customers would not come here unless we offer top-class produce with something special," he replied. "The people of this district have always liked their food. They are really quite greedy when it comes to eating tasty things, so we put this food culture to the fore and provide them with what they want."
  I also asked Mr. Tanaka about his difficulties and strategy as a fishmonger. "We get a lot of repeaters who come here from far away because they know they can buy fresh fish from the Pacific here," he replied. "The number of local customers is declining, but if we could grasp the needs of customers who come once a week from other places, that might make up for the fall in local custom.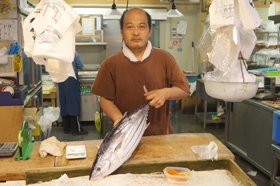 Mr. Tanaka holds a fresh bonito.
It's not possible to forecast tomorrow's demand from one-time customers, so depending on tourism is a bit scary. The basic approach of a local fishmonger in plying his trade is to get regular customers to tell others and encourage them to come." An interesting hint for local revitalization here! He went on, "Usually if local people want, for example, salmon from outside the prefecture, the fishmonger will respond by procuring produce from elsewhere. But the local population is declining, and local fishmongers have begun to compete with one another. So I have been shifting to a policy of selling local fish to outsiders. The trouble is that fishermen are retiring one after the other. Unless we do our utmost to prevent the number of fishermen from declining any further, we are not going to have anything to sell. Fishermen and fishmongers, you can't have one without the other. If there were no fishermen, there wouldn't be any point in having fishmongers like me either."
Kochi City's Popular Weekly Street Market
(Sunday Market)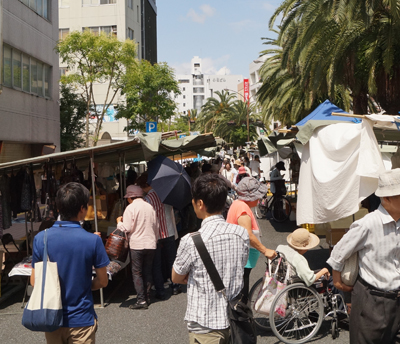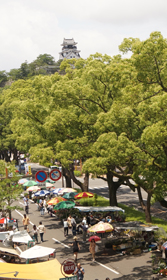 The donjon of Kochi Castle rises in the background.
The donjon of Kochi Castle, the symbol of Kochi Prefecture, rises in the center of Kochi City. Every Sunday the largest street market in Japan, nicknamed the "Sunday Market," is held along the main avenue stretching from the castle. Around 430 stalls line the 1.3 km thoroughfare.
  Many cities around the country are promoting open-air markets for tourist purposes, but Kochi's Sunday Market, which has a history of more than 300 years, has long been a daily life market handling items that local people who come shopping here need for their lives. Almost all of the stallholders are farmers and fishing people from inside Kochi Prefecture, and producers themselves sell their wares. It is a good example of the so-called sextiary industry, in which farmers produce, process, and sell themselves. (In other words, they combine the activities of the traditional primary, secondary, and tertiary sectors.) This all-around participation of producers in agribusiness is contributing to vitalization of the local community.
  Items on sale include freshly harvested vegetables, fruit, and seafood, as well as hardware and plants. The goods come directly from the producers, so prices are reasonable. Moreover, the stallholders are cheerful, friendly, and very easy to talk to. It is a delight to hear the lively banter being exchanged between sellers and buyers in the local Tosa dialect.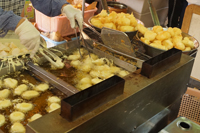 (Left) A popular custom is to buy a deep-fried sweet potato and eat it while walking around the market. There's always a queue at this stall.
(Right) Hiyashiame is a traditional drink much loved by the people of Kochi Prefecture. The light and sweet ginger-based drink certainly goes down well.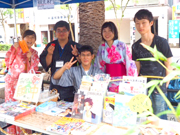 Volunteer university students are on hand to provide information, so foreigners won't have any trouble getting around. The number of foreigners visiting the market has been increasing recently.
  The Sunday Market has emerged as one of Kochi Prefecture's tourist sights. The number of tourists including the market on their must-see list is increasing and adding to the liveliness of the event. The stalls beginning making preparations at six in the morning, and local shoppers soon start gathering to snap up the fresh produce, which is available in abundance at that time. But the late afternoon is a good time to go as well, because the stalls start to throw in extras after around three or four o'clock as they get ready to wind up for the day.
  Don't worry if you can't make it on a Sunday, either. Open-air markets are held around the city every week on Tuesdays, Thursdays, and Fridays as well.


Cooperation and photos:
Industrial Policy Division, Kochi City Government
TEL 088-823-9456 FAX 088-823-9492
http://www.city.kochi.kochi.jp/soshiki/40/gairoititop.html (Japanese site only)
Hirome Market: Easy and Tasty Eating and Drinking in Kochi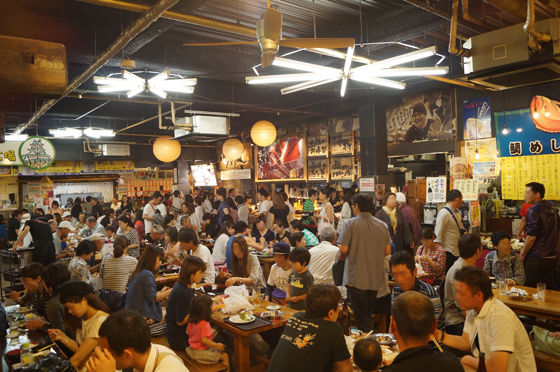 Hirome Market, where local folk like to gather for a meal and drink, is a large facility of about 60 food stalls situated adjacent to the Sunday Market. There are stalls serving everything from local cuisine to foreign food, as well as stalls selling local specialties, seafood, local sake, and clothing, and they attract all kinds of local people, from families with small children to high school students, salaried workers, and senior citizens. Day and night, it is a very lively place. Inside it's like a maze, and the atmosphere is a bit chaotic, but travelers can blend in easily. It has become quite a hot spot.
  Visitors are sure to find something to their liking there, be it seared bonito fillet, gyoza (Chinese dumplings), tempura, local seasonal delights, Kochi sake, or Indian home cooking. The mart is used by local people, so prices are fair.
  The food stalls that can be found everywhere in the mart have seats for 450 people. Like a food court, you buy what you want at a stall and then take it to a table to eat it. There is no table charge, so you can stay seated for as long as you like. More often than not you will be sharing a table with strangers, but everyone is very open and willing to chat with others as they eat the delicious food and drink. Assistants go round the tables clearing up used dishes and cutlery, so there is no need for customers to clear the tables themselves afterward.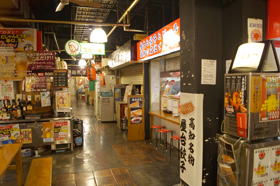 Cooperation:
Hirome Market
2-3-1 Obiya-machi, Kochi City, Kochi Prefecture 780-0841
TEL 088-822-5287 FAX 088-856-5310
http://www.hirome.co.jp/ (Japanese site only)


An Out-of-the-Way but Must-See Museum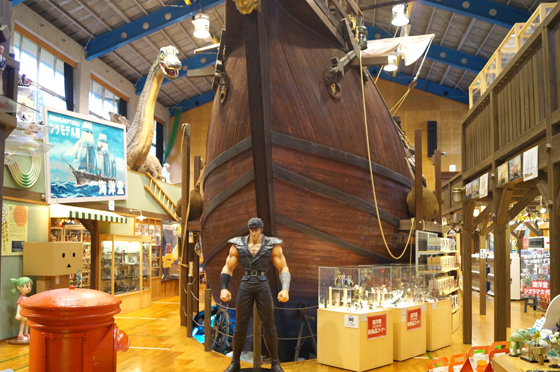 The figurine maker Kaiyodo, which has climbed to the highest levels in the world with its original ideas and elaborate craftsmanship, has many fans overseas. Four years ago a museum dedicated to its history and portfolio opened in Kochi Prefecture. The remote building, which used to be an elementary school, is situated in the birthplace of the founder's father and is reached by following a narrow path up into the mountain. By opening the museum, the local people hoped to restore vitality to the depopulating region by attracting new visitors.
  Even if you are not a devoted fan, you will find the museum intriguing as it explores the 50-year history of Kaiyodo and thereby introduces the evolution of Japanese models, plastic models, and figurines. You will also be awed by the vast and wide-ranging number of exhibits, which include the latest products, valuable dinosaurs by top-class designers, and anime characters.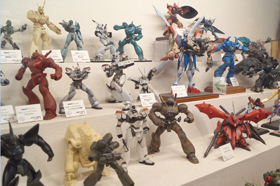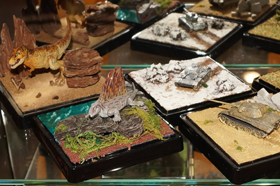 Adults often get more carried away than their kids in the workshop for making dioramas using figurines.
Cooperation:
Kaiyodo Hobby Museum Shimanto
1458-1 Utsuigawa, Shimanto-cho, Takaoka-gun,
Kochi Prefecture 786-0322
TEL 0880-29-3355 FAX 0880-29-3356
http://ksmv.jp/ (Japanese site only)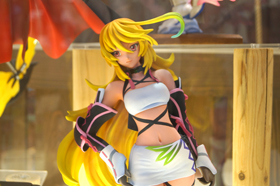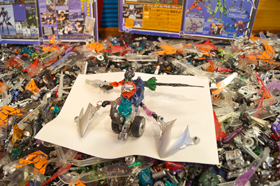 The corner for freely assembling moving parts is tremendously popular among children, who enjoy the endless expression of creativity.