Travel
06-18-2018
A New Style of Urban Tourist Hotel
Offering Easy Enjoyment of Both
Neighborhood and Guest Rooms

Hoshino Resorts' OMO5 Tokyo Otsuka
OMO5 Tokyo Otsuka, representing a new brand of hotel from Hoshino Resorts, opened in front of Otsuka Station in Tokyo on May 9, 2018. Focusing its target on tourists, OMO is a new style of hotel realizing facilities, guest rooms, and services differing from those of ordinary city business hotels. The following is an introduction to some of the measures designed to help guests enjoy both the inside of the hotel, including the attractions of its lobby and guest rooms, and the neighborhood.
 About a minute's walk from the north exit of Otsuka Station on the JR Yamanote Line you will see a large building with the OMO5 logo looming from its top. This is a new type of hotel, OMO5 Tokyo Otsuka (125 guest rooms), developed by Hoshino Resorts. The first-floor (ground-floor) entrance has a wooden-lattice decoration, so you cannot miss it.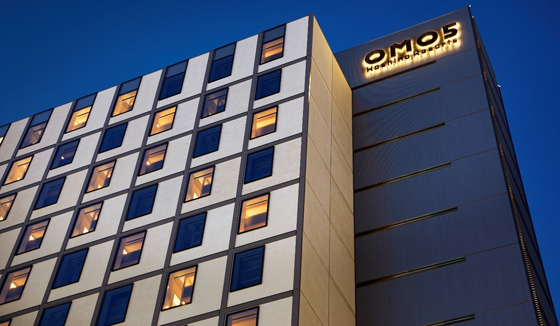 The OMO5 Tokyo Otsuka hotel is about a minute's walk from both the north exit of Otsuka Station on the JR Yamanote Line and Otsuka-Ekimae Station on the Toden Arakawa Line. (Photo courtesy of Hoshino Resorts)
| | |
| --- | --- |
| | The entrance to the OMO5 Tokyo Otsuka hotel is distinguished by its wooden-lattice decoration. (Photo by Yohei Sakamoto) |
 OMO is the name of a hotel brand newly launched by Hoshino Resorts with the concept of realizing "urban tourist hotels that offer more than just a bed and enhance the excitement of travel." The first OMO hotel, OMO7 Asahikawa, opened in Asahikawa, Hokkaido, in April 2018, and the one in Otsuka is the second.
« Older Entries
The latest category news list