art
04-24-2018
Tower of the Sun: The Symbol of Osaka Expo '70
—Balance of earthquake resistance and preservation
restores dynamism of 48 years ago—
In 1970 the whole nation was gripped by the Japan World Exposition, commonly known as Osaka Expo '70, and one of the main attractions was a work by the famous artist Taro Okamoto (1911–96) called Tower of the Sun (Taiyo no to). This tower remains standing to this day, and on March 19, 2018, after renovation work, it was permanently opened to the public for the first time since the expo. The following is an introduction to the attractions of the new Tower of the Sun, which, while restoring the work's original dynamism, has been reborn as a safe exhibition space.
 Alighting at the park's Osaka Monorail station, visitors are greeted by a face peering out from amid the trees of Expo Commemorative Park. This is Okamoto's Tower of the Sun, which stands near the park's entrance. Although it may be difficult to appreciate from the photos, the huge monument is about 63 meters high.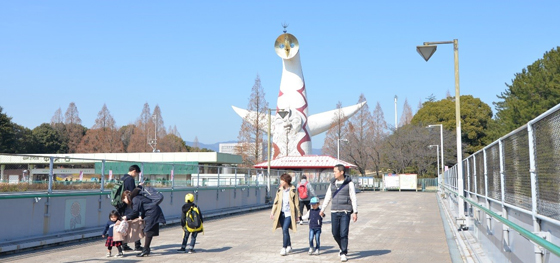 The Tower of the Sun in Expo Commemorative Park (Photo: Yuiko Sugawara)
 Forty-eight years after the Osaka Expo, the Tower of the Sun was opened to the public in March after Osaka Prefecture had carried out earthquake-resistance reinforcement work and extended the underground exhibit space at a total cost of about \1.38 billion.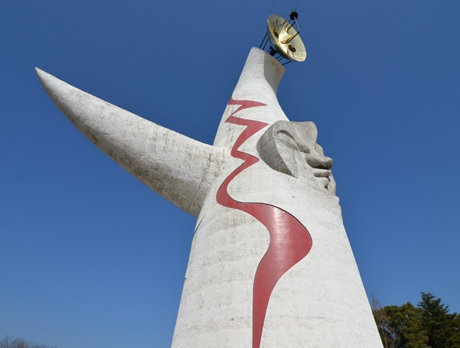 Even now, when you look up at it, the tower is an awesome structure. The diameter of its base is about 20 meters. (Photo: Yuiko Sugawara)
The latest category news list