Washi Continues to Play Integral Role in Daily Life —A visit to the almost 370-year-old Ozu Washi store—
Washi Continues to Play Integral Role in Daily Life
—A visit to the almost 370-year-old Ozu Washi store—
 There is an ukiyo-e by the famous woodblock print artist Utagawa Hiroshige (1797–1858) depicting the hustle and bustle of Tokyo's Nihombashi area during the Edo period (1603– 1868). In the picture, one can see the Ozu Washi store, which still stands on the same site and continues to do business almost 370 years since its founding.
 Ozu Washi is a specialty store that, ever since its establishment, has engaged in the procurement and sale of washi (Japanese paper) produced at workshops across the country. Today the head office building of the store not only sells washi goods but also fulfills the role of a disseminator of washi culture by, among other activities, displaying historical materials showing the relationship between paper and the Japanese people and holding calligraphy and ink painting classes. If they want, visitors can also experience washi papermaking under the guidance of Mr. Kiyoshi Takagi, formerly deputy manager of the shop and now in charge of public relations. Mr. Takagi showed me around Ozu Washi's head office building, and I asked him about the reasons for the development of paper culture in Japan and the outstanding practicability of washi.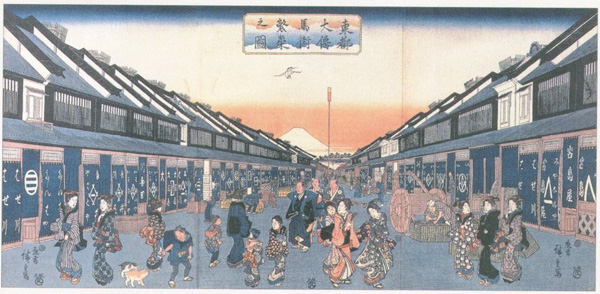 The Ozu store is shown on the right at the back in Utagawa Hiroshige's "Prosperity in Odenmagai in the Eastern Capital."
Continue reading
The latest category news list