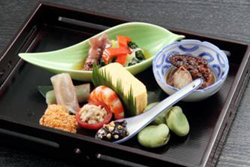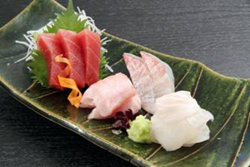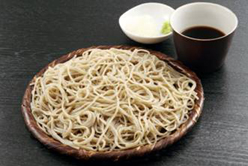 Ryorinin EGAWA, located along a side street just off Hongo-dori near the well-known Akamon gate of Tokyo University, offers handmade soba (buckwheat noodles) and multi-course kaiseki haute cuisine. EGAWA's soba is made with the finest attention to detail, starting with the buckwheat flour, which consists of a blend of two carefully-selected types from Yamagata and Miyagi Prefectures. IHCSA Café talked with EGAWA's owner, Mr. Hiroshi Egawa, who formerly served as chef for a minister at the Embassy of Japan in the United States.
What was it like working as a chef at an embassy minister's residence in Washington?
We had many guests in Washington, and I was honored to cook not only for VIPs from abroad, but also for the Japanese prime minister and other people that you normally do not meet. It was a very valuable experience for me.
 There was an especially unforgettable incident. To help create a Japanese ambience, I used to hand make guests' chopsticks from young bamboo plants. One day, when I went to a bamboo grove to obtain more bamboo plants, two police cars suddenly came toward me. I'd been picking bamboo on private land unknowingly, and apparently someone saw me and called the police. Fortunately, I was released once they heard my explanation, but it was quite a frightening experience.
Did you learn anything from your experience abroad?
Even in America, it's not like Tsukiji, where you can get quality food of just about any kind. To be honest, only a few types of fish were available in high enough quality to be made into good sashimi. However, since it was my intention to purchase foodstuffs locally, I relied on imports from Japan only for katsuobushi (dried bonito flakes) and konbu (kelp). I became acquainted with Japanese farmers growing rice and vegetables, and they would let me know whenever they had fukinoto (Japanese butterbur shoots), taranome (Japanese angelica shoots), and other rarities that I could use. In that respect, I was made fully aware of how I owe my being able to cook to all kinds of people around me. Also, it made me place even greater importance on the food I use to cook my dishes.
What is the attraction of soba for you?
I grew up in Yamagata Prefecture, which is a famous soba place. I've always loved soba—so much, in fact, that I wanted to make a proper study of the art of soba-making. I studied at a soba workshop for a year while working as master chef for a hotel in Sendai. It seemed to me that soba dishes in Tokyo were expensive relative to their volume and quality, so I wanted to offer quality that was worth the price. Hand making soba noodles is difficult, and the more you do it, the more difficult it gets. It's a little different from cooking in that you start from scratch and may end up with a taste that can be enjoyed just that one time. That's the fun part and the attraction—that the taste and flavor change subtly with the conditions.
Why did you include "ryorinin (chef)" in the name of your restaurant?
I think the ideal chef is someone who can cook exactly the kind of food that customers want. At present I make soba noodles from scratch and serve kaiseki meals. I used to fry tempura at the counter and cook fugu (puffer fish) and suppon (turtle) dishes as well. I want to take advantage of my diverse cooking experience, and that's why I didn't want to call my place a soba restaurant. Then again, I didn't want to categorize my dishes as Japanese cuisine. I want to be the kind of chef who is willing and able to cook up dishes in response to customers' requests. That's why I named my restaurant, "Ryorinin EGAWA."
What are your hopes for the future?
I opened my restaurant in November 2009, and I want to take the next couple of years to build a solid foundation. Eventually I may want to expand the restaurant, but I know this won't be possible without the right people. While I don't advertise and don't even have a website, our clientele is growing by word of mouth, thanks partly to various connections. I'm truly grateful. I hope to continue at this pace into the future.
Born 1966. Studied at the Tsuji Cooking Academy in Abeno, Osaka. Gained experience working for Kitcho at the Imperial Palace Hotel and Hotel Seiyo Ginza, as well as other restaurants in Tokyo. Served as chef for a minister at the Embassy of Japan in the United States for two years, from August 1995 to July 1997. Worked as master chef for the Chigasaki Grand Hotel, Le Toyoda (now Ginza Toyoda), and Hotel Monterey in Sendai. Opened Ryorinin EGAWA in Hongo, Tokyo, in November 2009.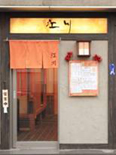 Ryorinin EGAWA
TEL: 03-3818-3575
5-25-11 Hongo, Bunkyo-ku, Tokyo 113-0033
Directions: 5-minute walk from Hongo Sanchome station on the Marunouchi and Oedo subway lines 
Hours:
Lunch: 11:30 – 14:00 Tuesdays through Fridays (soba sets and Kaiseki meals reserved in advance)
Dinner: 18:00 – 22:00 Mondays through Saturdays (multi-course meals only)
Closed Sundays and national holidays