Kentaro Minagawa Talks about the Attractions of Skiing
The Joy of Innocently Zooming down the Ski Slopes
The year 2011 marks the centennial of skiing in Japan. One hundred years ago Major Theodor von Lerch from the Austro-Hungarian Empire taught skiing to a Japanese infantry regiment on Mt. Kanaya in Takada in the city of Joetsu, Niigata Prefecture. That was the first time for skiing to be introduced in Japan. In commemoration of the occasion, IHCSA Café asked alpine skier Kentaro Minagawa about the attractions of skiing.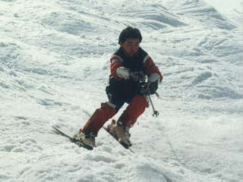 You come from Naeba. Please tell us about your memories of skiing in your childhood.
I started skiing when I was three years old. I grew up in the economic bubble period, so Naeba was always swarming with skiers. There were so many skiers, a lot of bumps appeared on the sides of the course. I had great fun with my friends skiing down those bumps. It was rather like mogul skiing today. The ski patrol called us the "kid racers" and often chased after us. If they caught us, they took away our lift tickets. [Laughs] We didn't want to get caught, so we would ski over the bumps faster than the patrol. At that time I liked to ski from the top of the mountain to the bottom faster than anyone else. Before I knew it, I was taking part in an international competition at the age of 12.
What do you think are the attractions of skiing, not as an athlete but as an ordinary skier?

I always feel that the air is fresh at ski grounds. At the top of a mountain, the air is really clear. Skiing in the early morning when there is nobody else on the ski slope—not thinking about anything, just feeling the wind. You can feel the wind while riding in a car or on a bicycle of course, but the sensation of skiing on a mountain is completely different.
You have experienced ski grounds around the world. What are the good points of Japanese ski grounds?

Everyone says powder snow is best, but I don't think that is necessarily so. With powder snow, you get a feeling of floating on the surface, like surfing. And it can be hard, as on ski slopes in Europe, which makes it difficult for ordinary skiers. With the exception of some ski grounds in Hokkaido, the snow on Japanese ski slopes contains a little moisture. Actually, the quality of Japanese snow is better suited to the skies. It's easier to edge, and the equipment seems to work well. So I think Japanese ski grounds have good snow.
One more attraction of Japanese ski grounds, of course, is the hot springs. Some ski grounds in other countries also have hot springs, but it is only in Japan that hotels have onsen. In Switzerland and elsewhere they have spas, but they do not have the atmosphere of Japanese onsen resorts.
And another good thing about Japanese ski grounds is that there are various types. Naeba is like an urban ski ground; it is neatly equipped and easy to ski on. In Hakuba the mountain is big, so the course is incredibly long. Shiga Kogen is cone-shaped, so you can enjoy various courses on all sides.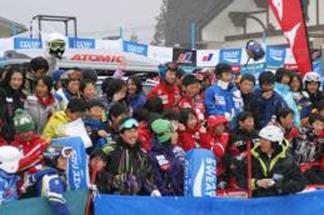 What have you gained by competing at the top level in the world?

At the Turin Olympics I missed winning a medal by 0.03 seconds. That's how harsh a world it is, but nevertheless after every Olympics for me it's been a cycle of suffering an injury and spending the next four years recovering in time to participate in the next Olympics. They say that top-class athletes don't get injured, so in that sense I'm certainly not top class. [Laughs] But because of the injuries, rather than the hurdle of performances, I think I have experienced the hurdles of life. Since I have got over many hurdles that have required much more than plain effort, I have learned about the order of priority of things. If everything goes well, your mind races ahead and you crave for this and that. But I have experienced times when I couldn't even walk let alone ski, so now the number of things that I want has decreased. Apart from things like being able to ski and having people around who support me, I have come to realize that there is really not so much that is necessary. The grass doesn't appear greener on the other side! [Laughs]
We can look forward to your performance at the next Sochi Olympics, can't we?

At Vancouver I was desperate just to participate. I was thinking about this and that and really didn't have maximum concentration. In a top-level competition, the injuries that I had sustained on both knees were a heavy reality. You can easily talk about recovery from injury, but the reality is not so simple. Now, however, I am able to see the essence without averting my eyes from unpleasant things. It's hard, but I am training with the belief that there is a way out. I am not top-class [laughs], but I think there is a possibility of my finishing in the top three in the world.
We are looking forward to your continued achievements as an active athlete. But looking farther into the future, what are your ambitions?

I think being an active athlete is just the first stage of my career. At the moment I am 33 years of age. I have already decided what I would like to achieve by the time I'm 60. I often discuss this matter with Aiko [his wife Aiko Uemura, a mogul skier]. Our generation was brought up in an environment built by the preceding generation, so I would like to help build the environment for the next generation. For example, Japan built the world's first urban-type ski dome in Funabashi, but today, when many ski domes have been built elsewhere around the world, it no longer exists. So one of my dreams is to resurrect a ski dome where people can ski throughout the year. I want to work toward building an environment that can turn out Olympic skiers. It might seem like a big goal, but you can't do something unless you first of all have a desire to do it, can you?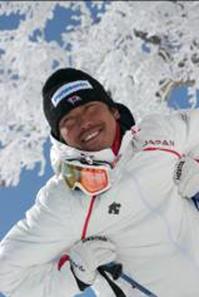 The year 2011 is a commemorative one. It marks the centennial of the first introduction of skiing in Japan. Do you have any plans for the occasion?

Well actually, in my first year at senior high school, I skied at Takada in Niigata Prefecture. That is where Major Lerch taught skiing to Japanese for the first time, so it is the birthplace of skiing in Japan. Given that connection, I am scheduled to participate in various events commemorating the centennial. In addition, I am now building a course at Naeba for my own training, and this winter I will ski there together with "kid racers." Rather than teaching, I hope it will be a case of just shouting "Follow me!" and enjoying skiing through the wind with them.
【Profile of Mr. Kentaro Minagawa】
Minagawa was born in Yuzawa-machi, Niigata Prefecture, in 1977. He is 173 cm tall and weighs 82 kg. He graduated from Nippon Sport Science University and now belongs to the Takemura Sogo Setsubi Ski Club. In 1998 he participated in the men's slalom at the Nagano Olympics. In 2000 he earned the nickname "ski revolutionary" for his use of short carving skis (168 cm), which were not common among professional skiers at that time. In 2001 he placed 18th in the overall men's slalom World Cup and 10th in the World Ski Championships, thus entering the first seed (the top 15 in the world). He appeared in the men's slalom at the 2002 Salt Lake City Olympics. In the same year he tore the cruciate ligament in his left knee at a competition in Yuzawa Onsen. In 2006 he came fourth at the Turin Olympics, thus recovering his place in the first seed. But in the same year he injured the cruciate ligament in his right knee during training. He took part in the men's slalom at the 2010 Vancouver Olympics.


Kentaro Minagawa official blog: http://ameblo.jp/kentaro1up (Japanese only)

Cooperation: Sports Biz Co., Ltd.: http://www.sports-biz.co.jp/en/index.html (English)
Photos: Fumio Kimiwada; courtesy of Sports Biz Co., Ltd.