Hideaway Japanese restaurant
01-01-2011
Hideaway Japanese restaurant
featuring carefully selected domestic wines and full-fledged kappo cuisine
Mr. Fumiya Konagamitsu, owner-chef of Shunko Mitsuya
(former chef for the Japanese Embassies in Norway and Czech Republic)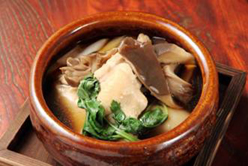 IHCSA Café visited Mitsuya, a hideaway restaurant in Suginami-ku, Tokyo, just four minutes on foot from Asagaya Station. Although a tiny restaurant tucked away on a back street, Mitsuya offers full-fledged kappo cuisine, as well as a choice selection of domestic wines. IHCSA Café talked with Mr. Fumiya Konagamitsu, the owner-chef of Mitsuya. Mr. Konagamitsu lived three years and eight months in Norway and another three years and five months in Czech Republic working as Japanese embassy chef.
What do you remember about your days in Norway and Czech Republic?
I have only good memories. Initially I worried about the language. I studied in my own way, thinking I should be able to speak a little so that I can communicate with the local staff. I learned mostly English and a few words in the language of the country I was in.
      One of my fond memories with the Czech staff is the time we went mushroom-hunting together. Picking mushrooms is a national fall pastime in Czech Republic, where even young people can tell the difference between edible and poisonous mushrooms. The embassy driver, with whom I still maintain contact, was especially knowledgeable. Last year he sent me some mushrooms, and I sent him a Japanese calendar in return.
      I've always been interested in other countries and wanted to see different worlds, so I took the opportunity to travel to various places on my days off. I love wine, so I visited France many times. I went to Paris, of course, and to Brittany, Bordeaux, Burgundy, and regions close to the Spanish border. When I was living in CzechRepublic, I once drove 7-8 hours to the place I love best, Alsace. Those were valuable experiences I never would have had if I'd stayed in Japan.
Was running your own restaurant something you'd imagined doing?
I always wanted to run my own restaurant. Gradually over the years I built up a collection of dinnerware in preparation, as it can be difficult finding everything you need all at once. When I was in Norway, I drove to Copenhagen and bought china at Royal Copenhagen. In Czech Republic, which is famous for crystal, I obtained a lot of crystal ware.
      After my return home, I opportunely found a property in Asagaya, where I'd lived during my apprentice years. It was just the right size for one person to manage alone. That's how I opened Mitsuya in December 2008. The name was my wife's idea. It combines "mitsu," which is part of my last name, and "ya," which is part of my first name. Mitsuya, which has a charming sound to it when pronounced, embodies our hope that the restaurant will be loved by customers constantly through the years.
What aspects do you focus on to make dining at Mitsuya special?
All the ingredients are meticulously selected by me personally. My aim is to cook great food that provides quiet but deep satisfaction rather than food that's pretentiously different. I also want to have my customers enjoy domestic wine with my dishes. And I want to include original dishes that take advantage of my seven years' experience in Europe.
What are your hopes for the future?
Just planning a day at a time is about all I can do at present. However, I do have a dream: to open a restaurant in another country. I know living abroad is not easy when you're on your own, unlike the time I was working for an embassy, but I still want to try it. If possible, I'd love to open a restaurant in Norway or Czech Republic.

Born 1969. Came to Tokyo after graduating from high school and worked at various kappo restaurants. Went abroad at the age of 30 to serve as chef for the Japanese embassies in Norway and Czech Republic. Opened Mitsuya in Asagaya in December 2008. Received a Foreign Minister's Award for Excellence as Embassy Head Chef in October 2010.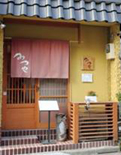 Shunko Mitsuya
Tel: 03-6795-5328
3-44-9 Asagaya-minami, Suginami-ku, Tokyo 166-0004
Website: http://ameblo.jp/season-jp/ (Japanese only)
Directions: 4-minute walk from the South Exit of JR Asagaya Station
Lunch hours: 12:00 – 14:00
Dinner hours: 18:00 – 22:00 (last order 21:30)
Closed Mondays / Tuesdays dinners only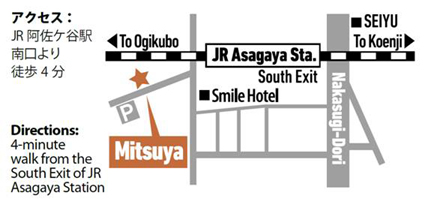 Photos: Fumio Kimiwada