Harnessing Traditional Japanese Artisanship for Modern Eco-Living
07-01-2011
Harnessing Traditional Japanese Artisanship for Modern Eco-Living
Reina Otsuka, President, Ecotwaza Co., Ltd.



Ms. Reina Otsuka, the president of Ecotwaza Co., Ltd., has been attracting a lot of attention both domestically and internationally as a promising young entrepreneur. IHCSA Café spoke with Ms. Otsuka, who, despite being a youthful modern entrepreneur, discovered her business concept in traditional Japanese management philosophy.
◇ Please tell us about the relationship between your company's business concept and traditional Japanese management philosophy.
Traditionally Japanese companies conducted their business according to a family or company creed that business transactions must not only take place between the seller and the buyer but also contribute to the entire society surrounding them. The merchants of Omi [present-day Shiga Prefecture], for example, had their philosophy of three-way goodness—good for the seller, good for the buyer, and good for society as a whole. Modern management philosophies like social contributions and corporate visions were taken for granted by merchants in Japan for ages.
Also, through their tradition and culture of respect for nature, the Japanese since a long, long time ago have cultivated business and products that do not place a heavy load on the environment, as well as the artisanship to support them. By introducing the nature-friendly technologies and products possessed by small and medium-sized companies around Japan, and the stories behind them, to the world, we hope to contribute to the solution of environmental problems. That was the starting point of our business.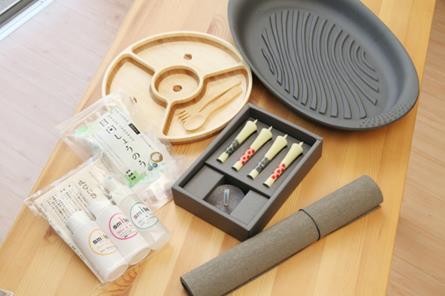 Environment-friendly products from around Japan
◇ You say that in the Japanese economy in the future it will be important to export values other than the large-scale movement of commodities. What do you mean by that?
I think it is important, for example, not to sell tableware cheaply and in large quantities but to make people like Japanese food culture as a whole. Japan is a major exporting country, but, for instance, think about the European countries with which Japan has an import surplus. The representative ones are France and Italy. Even though they are a long way away, they have attractions that make the Japanese want to go there. And even though they are expensive, they have brands that the Japanese want to buy. Japan is blessed with wonderful nature and a rich culture. From now on it will be important to brand products, and values, that have deep roots in Japanese nature and culture.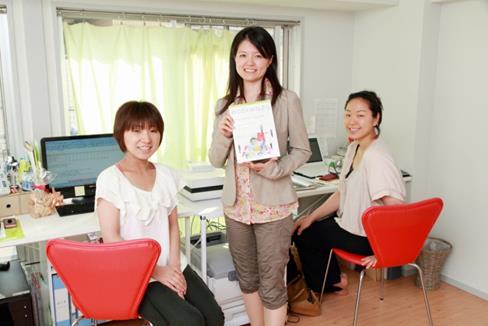 Outstanding staff teamwork (left facing: Naomi Ogatsu; right facing: Nanao Sonobe)
◇ What is an affluent lifestyle for you?
In terms of products, things that I can use for a long time. In terms of food, eating things that are good for me. I don't separate work and leisure and think that the more leisure I have, the more affluent I am. I believe that fulfilling work is an affluent lifestyle as well.
Before graduating from university, I was involved in a traffic accident. Inside the spinning car, I momentarily thought, "Maybe I'm going to die. Oh no! There's still so much I want to do!" [Laughs] I feel as if I was spared at that time, so now I have a strong desire to put everything into what I do.

◇ I hear that you are also conducting activities to support the disaster area following the Great East Japan Earthquake.
Generally speaking, the first month after a disaster is a period of relief, the next three months is a period of recovery, and after that there is a long period of reconstruction. I think there are things we can do in the period of reconstruction. Since May 1 we have been conducting a Support Tohoku Campaign, selling Tohoku products on our website and donating part of the proceeds. In our eco + waza magazine that will go on sale on July 20, we are scheduled to have a special feature on Tohoku products from Aomori, Iwate, Miyagi, and Fukushima prefectures. We want to introduce many of Tohoku's environment-friendly products, and the stories and values behind them, to the world and contribute to the disaster area by serving as a bridge between it and the rest of the world.

◇ What will you be doing 10 years from now? Do you have a vision for the future?
Around Japan there are world-class products and the artisanship that supports them. The problem is the gap that exists between these wonderful local technologies and products and consumers in other regions. Ecotwaza hopes to be of assistance in linking local and global. I don't think this is limited to Japan, either; the same is possible throughout the world. So 10 years from now, I would like to see Ecotwaza operating overseas too.



Reina Otsuka
Born in 1980. Grew up in New York until the age of 10. After graduating from the Faculty of Law of Hitotsubashi University (also was an exchange student at the University of California, Berkeley during this period), worked in sales and project planning at Recruit Co., Ltd. Founded and appointed president of Ecotwaza Co., Ltd. in 2006. Ecotwaza introduces and sells Japanese wisdom and goods that will lead to the solution of environmental problems. Specifically, the company transmits ecological information both in Japan and overseas through its bilingual magazine and website and operates a mail-order business for the sale of products to practice an eco-lifestyle.


eco + waza (Inspired Green Living from Japan): http://greenjapan.com/
Photos: Fumio Kimiwada