A French restaurant incorporating the essence of Eastern Europe and vegetables of Okinawa
07-01-2010
A French restaurant incorporating the essence of Eastern Europe and vegetables of Okinawa
Mr. Kenji Nakandakari, owner-chef of Restaurant Dolch
(former chef for the Japanese Embassy in Romania)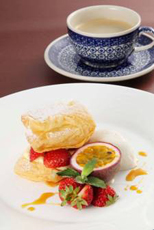 For this issue IHCSA Cafe visited Dolch, a restaurant located directly to the south of the Kyoto Imperial Palace, in a quiet residential area reached by walking from Marutamachi-dori to just a little way down Gokomachi-dori. Dolch is owned and operated by Mr. Kenji Nakandakari, who spent three and a half years in Bucharest serving as chef for the Japanese ambassador to Romania. IHCSA Cafe interviewed him at his restaurant to find out how the experience influenced his French cuisine.
Please tell me about some of your experiences in Romania.
Diverse languages are spoken in Romania. Romanian is a Latin-based language, and there are numerous words that are similar to Italian and Spanish. Historically, there appears to be strong Russian influences as well. In addition to these languages, many people speak English, German, and French, so there are many multilingual Romanians. I studied hard to learn Romanian and was able to handle daily conversation. The skill enhanced my ability to negotiate in all kinds of situations.
      Concerning cooking, I remember one time our guests included a Muslim, a vegetarian, and a person from India. On top of the fact that Romanians are conservative about food and generally don't like trying raw fish, there was an outbreak of bird influenza at the time, making it very difficult to choose what food to serve. I ended up with beef as the main dish and prepared something else for the Indian and vegetarian guests, who do not eat beef.
What is distinctive about Dolch's food?
The French food I cook incorporates aspects of traditional Eastern European cuisine in the garnishes and seasonings. For example, I often use white kidney bean paste to garnish a plate. White kidney beans are said to have a rich flavor similar to that of sesame seeds. Also, the way I season the food to give it a slightly sour flavor follows the Eastern European way. My customers sometimes ask me if my dishes are seasoned a little differently from the usual French cuisine.
Does the fact that you use Okinawa vegetables mean that you are from that island?
My father is from Okinawa, while my mother was born and raised in Kyoto. I myself was born in Kyoto. While I naturally use a lot of Kyoto vegetables, I also use Okinawa vegetables, many of which are unique and good for the health. Take green papaya, for example. Sliced thin and mixed into salad, it has a crunchy texture somewhat like daikon radish, while a potato-like texture is obtained when you boil it. Puccini, a type of pumpkin, is tasty when pickled. As for leafy vegetables, I use handama and nigana, cooked.
What kind of place do you want your restaurant to be?
In a word, a neo-bistro. A Michelin-starred restaurant offering top-class food and service is sometimes called "grande maison." What I'm aiming for is a bistro-style restaurant that has a little less of the deluxe and offers more reasonably priced dishes. I want to cook not just to satisfy myself but above all to satisfy the person I'm cooking for.

Born August 14, 1977. Worked for European-style kaiseki restaurant Kaen in Kitashinchi, Osaka, and Le Clos in Shinsaibashi, Osaka. Served as chef for the Japanese Embassy in Romania from 2003, managing all matters related to food served at the ambassador's residence, including banquets. Opened DOLCH in February 2007.

Restaurant DOLCH


Phone/Fax: 075-213-2014
1F, Gokomachi Building, 553 Bishamonmachi, Marutamachi-sagaru, Gokomachi-dori, Nakagyo-ku, Kyoto 604-0981
Directions
7-minute walk from Marutamachi Station (Exit 1) on the Karasuma subway line
7-minute walk from Marutamachi Station on the Keihan Line
10-minute walk from Shiyakusho-mae Station (Exit 11) on the Tozai subway line
Hours
Lunch: 12:00 – 14:00 last order
Dinner: 18:00 – 22:00 last order
Closed on Mondays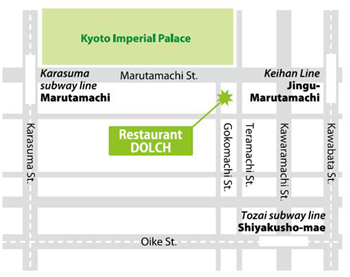 Photos: Fumio Kimiwada