Travel
08-20-2015
Kochi Prefecture: A Visit to See
Pristine Landscape and Culture
Part 1: The Blessings of Nature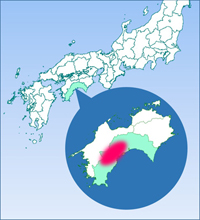 Blessed by the complete trio of ocean, mountains, and rivers, Kochi Prefecture in Shikoku offers a wealth of attractions throughout the four seasons of the year. The prefecture faces the Pacific Ocean and has a long coastline stretching east to west, so its ties to the sea run deep. And with a warm and rainy climate, it boasts abundant nature too. Indeed, Kochi's mountains have the highest woodland ratio in the whole of Japan. The following is an introduction to Kochi's nature and its blessings, lifestyle, culture, and other features focusing on the central and western parts of the prefecture, which I recently visited.
Shimantogawa: A Limpid River Flowing through Nature
The Shimantogawa river, which flows in the western part of Kochi, is one of the prefecture's representative rivers and the longest in Shikoku. Together with the Nagaragawa in Gifu Prefecture and the Kakitagawa in Shizuoka Prefecture, the Shimantogawa has a reputation as one of the three clearest rivers in Japan. It has also been selected by the Ministry of the Environment as one of the Selected 100 Exquisite and Well Conserved Waters in Japan. The Shimantogawa flows so gently that the blue sky and green mountains are reflected on the surface of the water. The course of the river meanders sharply, and at the turns the riverbed widens so that the water flowing downstream is cleansed as its passes through the stones and sand on the riverbed. Another reason for the Shimantogawa's limpidity is that there are no large dams to hold and stagnate the water.
« Older Entries
Newer Entries »
The latest category news list