Travel
06-07-2017
How to Enjoy Kyoto's Ohto Antique Art District
—An interview with Yakata antique shop owner Mr. Yoshitaka Tachi—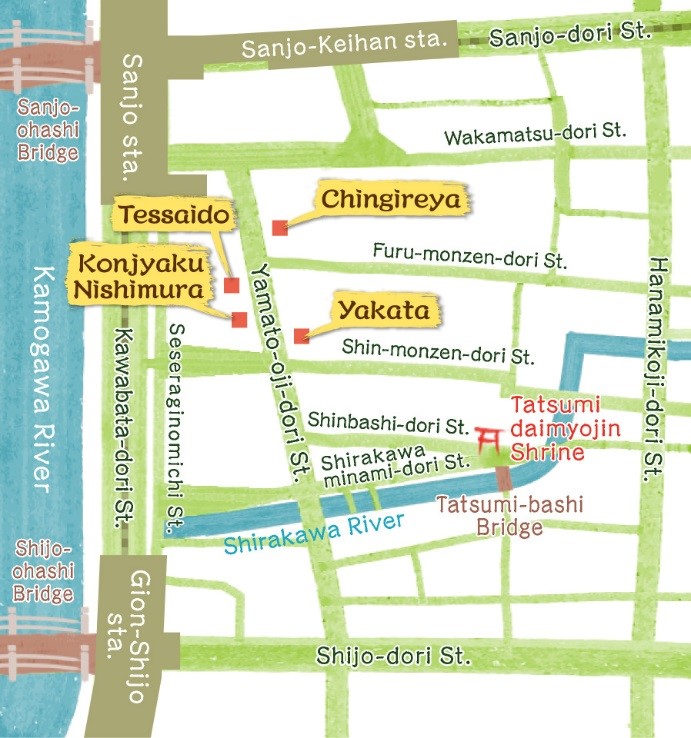 The Kamogawa River cuts across the city of Kyoto from north to south. The area to the east of the river is called Ohto. In the Ohto area, the district lying between Furu-monzen-dori and Shin-monzen-dori Streets, which run west from the famous Chionin temple toward the Kamogawa, and between Yamato-oji-dori Street, which runs parallel to the river, and Hanamikoji-dori Street, which links the southern and northern ends of Gion's entertainment area, is lined by many antique art shops. While an antique art district in the ancient capital of Kyoto certainly sounds attractive, the high-class shops might also be rather intimidating for laypersons. IHCSA Café therefore visited the Yakata antique shop in the Ohto antique art district and asked its owner, Mr. Yoshitaka Tachi, for some hints about how to enjoy this town of antiques.
1. The antique shops in this district belong to the Ohto Antique Art Association. What are the characteristics of this association?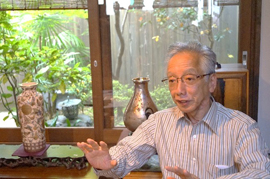 Mr. Tachi: The Ohto Antique Art Association was founded about 50 years ago. The antique art handled by the members of the association is diverse. Each shop has its own special fields and unique features. The items handled are high-quality, and the large number of shops gathered in the narrow district has no parallel in Japan. For this reason, the district constantly attracts attention from collectors both in Japan and overseas. Coupled with the local atmosphere, which retains the ambience of Kyoto, we are proud to say that it is one of the leading antique districts in Japan.
2. I'm sure each shop has its own characteristics. As examples, what are the characteristics of your shop and other notable stores?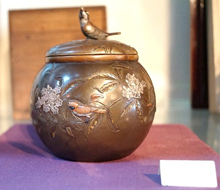 Mr. Tachi: One characteristic of my shop, Yakata, is that more than 70% of the items are purchased directly from customers. Many good-quality antique art works are lying in the warehouses of prominent households in Kyoto. When these households decide to sell, in a process called kuradashi [warehouse clearance], we can get our hands on antiques that have not been circulating. Such previously hidden items are called ubuni [new stock], and they are very popular among collectors. When there is a warehouse clearance, I buy not only the works of art but also small items, like dishes,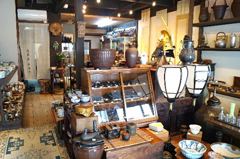 that have been used by that household for generations. Households that have good antiques also have good cutlery and other everyday items. Because of the large number of new items, others in the antique business come to my shop to make purchases, and collectors regularly visit to see if we have any rarities.
Read more…
« Older Entries
Newer Entries »
The latest category news list