Hot springs
06-26-2017
Warm Hospitality, Japanese Style Part 9
Warm Hospitality with Blue Eyes
Kamesei Ryokan in the Onsen Town of Togura-Kamiyamada, Nagano Prefecture



  An American-born man, who took over a ryokan (Japanese inn), today serves his guests and strives to invigorate the onsen town in the central part of Nagano prefecture. In this issue, IHCSA Café introduces the warm hospitality of the family-run 12-room ryokan, mainly operated by him and his wife, and his efforts to improve the charm of the area.

As a Young Master of a Ryokan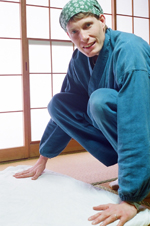 Mr. Tyler Lynch was working for a trading company in Seattle on the U.S. West Coast and living with his Japanese wife. Around that time, Kamesei Ryokan, with 100-year-old buildings, run by his wife's family, was on the brink of going under. Tyler loved the ryokan's atmosphere very much, but he found out that the buildings would be demolished because the family had no successors. Such old, historically valuable wooden buildings can never be rebuilt once they are pulled down. Tyler found his mission to keep the ryokan alive.
  In 2005, Tyler began working at the ryokan while he was still unsure about the procedures. Everything needs to be done mainly by the family members. His first task was to lay out and fold up futons for guests. Even today, bed-making is part of his daily routine, and he does this job while wearing samue, Japanese traditional work clothes. The ryokan used to have only an indoor public bath. However, because of his strong desire to make guests feel more relaxed, Tyler learned how to use construction tools and created three new open-air baths. He also provided distinctive small gardens made differently in each guest room on the first floor. He renovates the facilities as much as he can.
The latest category news list