Advanced technology
06-30-2017
Plenty of Lessons from Daily Life in Ama in Oki District, Shimane Prefecture (Vol. 2)
  Volume 2 of the series, which explore the charm of the town of Ama in the Oki District, Shimane Prefecture, will introduce the activities of Shimashoku no Terakoya, a chef training school teaching the culture and essence of Japanese cuisine. This volume will also feature the efforts of the CAS Freezing Center at Furusato Ama Co., Ltd., which sells Ama's seafood throughout the country by introducing the CAS system, which preserves ocean-fresh seafood without damaging its cellular tissues. In addition, Sentoraru-tei, a restaurant serving dishes using the company's products, will also be covered in this article.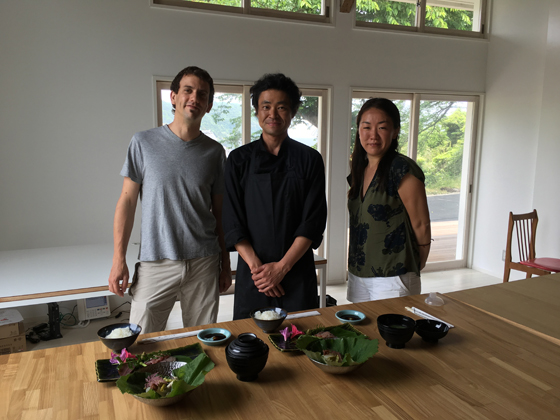 Andy and his wife, Noriko, from Germany, and Mr. Takeo Sato (center), a cooking instructor at Shimashoku no Terakoya
Learn genuine Japanese cuisine at Shimashoku no Terakoya
  In June 2017, a Japanese cuisine school, Shimashoku no Terakoya, opened in the town of Ama. This is a new project to develop genuine chefs by utilizing agricultural and fishery resources in the town. A nursery school building was converted into the cooking school, and the oven, grill, and other cookware are all brand-new.
| | | |
| --- | --- | --- |
| | | |
| Shimashoku no Terakoya | | Kitchen |
The latest category news list