People
07-01-2011
Harnessing Traditional Japanese Artisanship for Modern Eco-Living
Reina Otsuka, President, Ecotwaza Co., Ltd.



Ms. Reina Otsuka, the president of Ecotwaza Co., Ltd., has been attracting a lot of attention both domestically and internationally as a promising young entrepreneur. IHCSA Café spoke with Ms. Otsuka, who, despite being a youthful modern entrepreneur, discovered her business concept in traditional Japanese management philosophy.
◇ Please tell us about the relationship between your company's business concept and traditional Japanese management philosophy.
Traditionally Japanese companies conducted their business according to a family or company creed that business transactions must not only take place between the seller and the buyer but also contribute to the entire society surrounding them. The merchants of Omi [present-day Shiga Prefecture], for example, had their philosophy of three-way goodness—good for the seller, good for the buyer, and good for society as a whole. Modern management philosophies like social contributions and corporate visions were taken for granted by merchants in Japan for ages.
Also, through their tradition and culture of respect for nature, the Japanese since a long, long time ago have cultivated business and products that do not place a heavy load on the environment, as well as the artisanship to support them. By introducing the nature-friendly technologies and products possessed by small and medium-sized companies around Japan, and the stories behind them, to the world, we hope to contribute to the solution of environmental problems. That was the starting point of our business.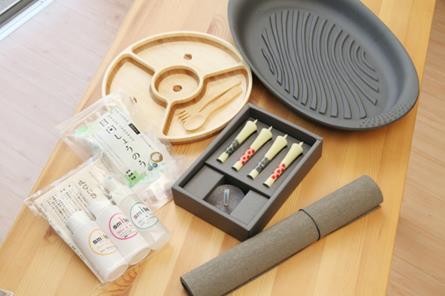 Environment-friendly products from around Japan
Newer Entries »
The latest category news list