Art
12-19-2016
Ginza Place in Tokyo's Chuo-ku
—New Landmark Gives Sense of History and Technology—
A new commercial building called Ginza Place has been constructed at the Ginza 4-chome crossing, which can be described as the face of Ginza, a popular upmarket commercial area in Tokyo. The outer façade uses more than 5,000 pure white aluminum panels in order to express Japanese craftsmanship. The building is attracting attention not only for its beauty but also for its state-of-the-art technology.
Ginza is an iconic commercial district in Tokyo. While department stores and brand shops line the main roads and offer the latest fashions, on the side streets there are old stores that have been doing business for generations. Ginza values both tradition and elegance.
One of the symbols of Ginza is the Ginza 4-chome crossing. The four corners of the junction where Harumi-dori and Chuo-dori avenues intersect are occupied by the Wako Main Store, the Ginza Mitsukoshi department store, San-ai Dream Center, and now Ginza Place, a new commercial building opened on September 24, 2016.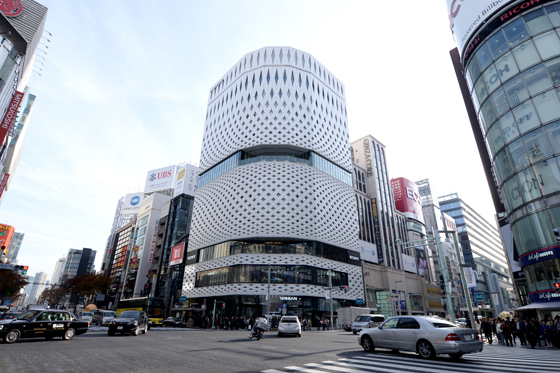 Ginza Place, a new commercial building, opened at the Ginza 4-chome crossing on September 24, 2016. On the left is Ginza Mitsukoshi, which opened in 1930 and is one of Japan's best known department stores. On the right is San-ai Dream Center, which was completed in 1963. (Photo courtesy of Nikkei Architecture)
« Older Entries
Newer Entries »
The latest category news list